Anne Gaitley Chandler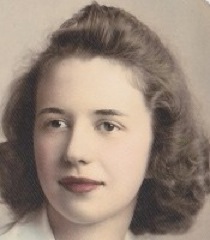 January 19, 1922 ~ March 9, 2011
Anne 'Annie Culbreth' Gaitley Chandler, 89, of Whispering Pines, NC, died on 3/9/11 from a stroke.
Daughter of the late Robert Thomas Gaitley and Annie Culbreth Gaitley, Mrs. Chandler was born on January 19, 1922. She was predeceased by her husband of 61 years Wallace Scarborough Chandler and sisters, Helen Gaitley Carraway and Jean Gaitley Mathews.
Mrs. Chandler graduated from Flora Macdonald College in 1941 with a B.S degree in Home Economics and Science and received her Masters of Education from East Carolina University in 1969. She married Wallace Chandler on April 8, 1943, just before his departure for Europe with the U.S. Army.
Mrs. Chandler served as a Home Demonstration agent in Robeson county from 1943-1947 and later had a thirty year career as a teacher, serving at Barium Springs Orphanage and in public schools in Asheboro, Greenville, and Charlotte.
Mrs. Chandler is survived by her four sons and their families: Wallace S. Chandler Jr. and wife, Betty Hunt Chandler, of Southern Pines; Dr. Robert G. Chandler and wife, Sandra Johnston Chandler, of Garner; Richard H. Chandler and wife, Dr. Julie McClure Chandler of North Hills, PA; and Charles C. Chandler and wife, Gwyneth Dale Chandler of Arlington, VA and 8 grandchildren, Matthew Jarvis Chandler, Fredrick Nicholas Chandler, Lindsay Anne Chandler, Wallace Reece Chandler, Lauren Elizabeth Chandler, John Culbreth Chandler, Catherine Lord Chandler and Margaret Emily Chandler.
Mrs. Chandler is also survived by one sister, Martha Gaitley Donahue; three nieces, Anne Carraway Dooley, Beth Carraway Crumpton, and Barbara Faulkenberry; and three nephews, Bruce H. Carraway III, James Hunter Mathews, and Robert Gaitley Mathews-Stevenson.
Funeral services will be held on Sunday March 13th at 2:00 P.M. at Brownson Memorial Presbyterian Church, Southern Pines, of which she was a member. Burial will be in Pinelawn Memorial Park.
Visitation will be held from 6 to 8 P.M. on Saturday at Powell Funeral Home in Southern Pines. Friends will also be received at the home, 38 Shadow Lane, Whispering Pines.
Memorials may be made to Brownson Memorial Presbyterian Church, 230 S. May St. Southern Pines NC 28387.

Memories Timeline
Guestbook
---