Ariel Davis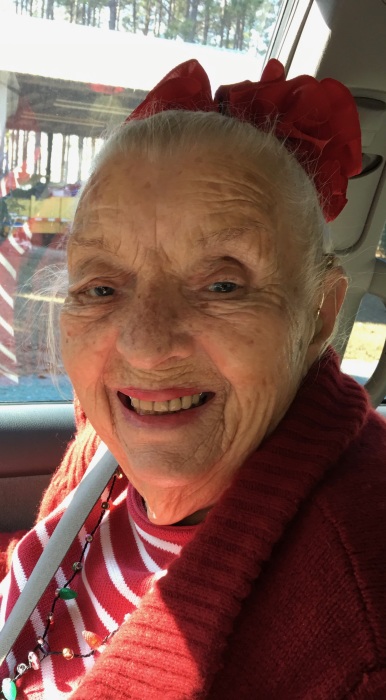 October 27, 1923 ~ April 6, 2018
Ariel Powell Davis, age 94, of West End, died peacefully on Friday, April 6, 2018 at Penick Village where she was lovingly taken care of by the good people who work there.
A memorial service will be 12:00 noon Friday, May 11 at Mt. Carmel Methodist Church. The family will receive friends a hour before the service.
Born In Possum Fork, SC (Florence Co.) but moved as a child to Myrtle Beach, SC area. She was the daughter of the late Fred Whitford and Gussie Haselden Powell.
She worked for several years at Proctor Silex and later in the respiratory department at Moore Regional Hospital.
She was preceded in death by her husband John Morgan Davis, son John Jr. (Gandhi) Davis, grandson Ben Dowd, and son-in law Jessie Dietz.
She is survived by three daughters Tara Dowd and husband Neil of West End, Dixie Presley and husband Walter (Buddy) Presley of Carthage, Jenny Dietz of Southern Pines, and special daughter-in-law Brenda Davis Gamblin of Paducah,Kentucky; grandchildren Brian Davis of Benton,Kentucky, Jill Arrington (Stephen) of Cameron, Daniel Presley of Southern Pines, Erin Harris (Chad) of West End, Sam Dietz of Southern Pines; great grandchildren Emma and Jake Arrington; Morgan, Noah and Joel Presley; Camryn, Cassidy, Jackson, and Bryant Harris.
Those of you who knew mom know she was a voracious reader. After losing her sight she was a sad little lady until we heard about NC Library for the Blind. They supplied her with listening books for many years. It put the smile back on her face. It is a wonderful service provided to people with disabilities. If you have someone who is vision or hearing impaired please contact them. It will help to make their life better. Please send memorials to NC Library for the Blind, by making checks payable to the "Friends" or "FNCLBPH". In the Memo field please write "Library", 1841 Capital Blvd. Raleigh, NC 27635. Mom would love this.
Fry & Prickett Funeral Home is assisting the Davis family.
Condolences: PinesFunerals.com
Memories Timeline
Guestbook
---