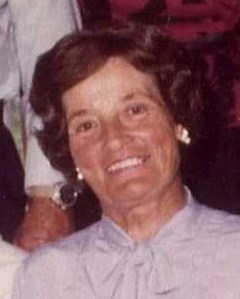 July 18, 1915 ~ February 18, 2017
Southern Pines, NC
Blanche "Freddie" Fissel, 101, passed away February 18, 2017. A memorial service will be held on Tuesday, February 21, 10:30 AM in The Chapel at Penick Village in Southern Pines.
She was born July 18, 1915 in Carlstadt, New Jersey, the daughter of Stanley and Johanna Fredricks. She grew up in East Rutherford, New Jersey.
Freddie worked as a nursing supervisor at Germantown Hospital. She did post graduate work in surgical nursing at New York Hospital / Cornell Medical Center and the University of Pennsylvania and served as an industrial nurse at Leeds Northrop.
Freddie married Dr. George E. Fissel in 1942. After Dr. Fissel returned from duty in North Africa the couple moved to Pope Field, North Carolina when then Captain Fissel became Base Surgeon.
They lived in Williamsport, Pennsylvania for 27 years where they raised two sons, Richard and William. While there Freddie served as President of the Lycoming County Medical Society Auxiliary. An avid golfer, she scored three career holes in one.
Freddie and George retired to Pinehurst in 1977 where Freddie was a member of the Silver Foils and won the Women's Club Championship at the Country Club of North Carolina.
The couple moved to Penick Village in 1999. She was active on Penick's Resident's Council as Secretary and Vice President and a blood drive volunteer.
Mrs. Fissel was predeceased by her husband, Dr. George E. Fissel and son, Lt. William R. Fissel. She is survived by a son, Richard D. Fissel, his wife, Mary Lu Fissel, their two children, Megan Stewart Fissel and William Jordan Fissel and daughter in law, Marisa Terranova Fissel. She is also survived by nieces Trudy Gilliam and Pat Grossi and a nephew, Kenneth Stoltz.
Powell Funeral Home and Crematory of Southern Pines, NC is assisting the family.
Condolences at: PinesFunerals.com
Memories Timeline
Guestbook
Sign the Guestbook, Light a Candle