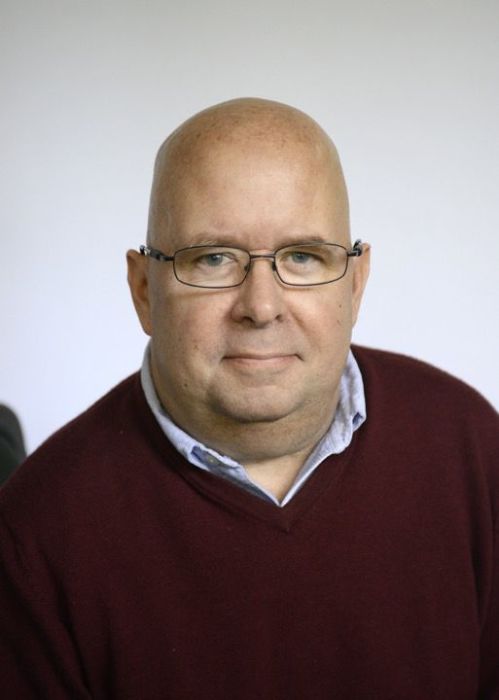 May 28, 1963 ~ December 14, 2017
Christopher Dhu Larsen, who loved politics from an early age but never let its rough-and-tumble ways sully his good spirit, died peacefully at his home in Southern Pines Thursday, Dec. 14, 2017. He was 54.
Born May 28, 1963, Chris split much of his early life between Washington, D.C., and New York City. His education extended from Sidwell Friends School outside Washington to the Bronxville public school system in New York. He graduated with a bachelor's degree in political science from American University.
Chris loved the back-and-forth of politics and moved easily among its many personalities. He went from being active in high school student government to the national scene where, in 1987, he was to head up the New Hampshire campaign of presidential hopeful U.S. Sen. Joe Biden before a scandal cut short the senator's ambitions. Chris maintained a lifelong fervent commitment to Biden and up to the end believed the Delaware Democrat could be president.
Chris was unabashedly proud of being a liberal Democrat and believed his job was to fight for the underdog and make things right.
Chris enjoyed a successful career on Capitol Hill after college doing public relations and lobbying work for a number of clients. In 2000, he had a sudden life change when doctors discovered an aortic aneurysm, a condition that almost always causes immediate death. Chris underwent a protracted surgery, after which doctors told his family he might not walk or talk again. In time, he did both and a year later returned to work.
While in Washington, D.C., Chris developed a strong faith relationship with St. Alban's Episcopal Church. He developed many lifelong friendships that endured even after he left Washington.
Chris eventually moved along to a career in real estate, working as an agent for Long and Foster in Washington. But it was on a 2009 visit to his mother and sister in Southern Pines that he decided he was done with the rat race of Washington. During that visit, he was driving past Pine Needles with his family when he said, "I could live here." So he did, moving shortly afterward to a home in Pine Needles.
Moving to Southern Pines was like starting a new life for Chris. After his surgery in 2000, he knew how precious time was and he made a point of enjoying every moment he was given here. His personality was warm and open to all.
Chris enjoyed a lifetime love of reading and collected books like few others. But unlike some, he read everything he had, sometimes two and three at a time. A number of mornings would find him on his back deck in the sunshine, reading a newspaper with a couple of books nearby.
Chris also loved food — cooking, eating and, most importantly, sharing. He was forever collecting cookbooks and trying new recipes that always contained one extra little twist. In the fall, he loved to compete in the Emmanuel Episcopal chili cook-off contest. He never won — his entries always seemingly one tweak too many — but he loved the fellowship and good-natured competition.
Chris had a deep and abiding faith in God and the Episcopal Church in particular. He quickly attached himself to Emmanuel soon after moving here and served the church in a number of roles, including as the church's senior warden. He worked side-by-side with church diocesan leaders on several matters but always maintained a good humor.
Chris will mostly be known around town as a man who loved to just hang out, whether it was in The Country Bookshop, the Jefferson Inn or Neville's. He was always one of the first patrons through the door of any new restaurant in town, but he kept a soft spot in his heart for the Bell Burger at the Pine Needles Resort restaurant. He believed in the power of this area's local towns, its businesses and the people in them. Their success was a source of pride that he would share with friends who came to visit.
From his early days in Southern Pines, Chris was a regular column writer for The Pilot. He frequently covered local issues and loved writing more-than-occasional pieces about things he loved in town, whether it was restaurants, people or just the scenery. He loved traditions such as the annual Blessing of the Hounds, Christmas tree lightings and any parade.
On his Facebook page, Chris lists his favorite quote from his friend and former St. Alban's priest Frank Wade: "My life has had few awards but a great many rewards, People laugh and cry with me. They share their most intimate secrets and allow me into their lives at the softest most vulnerable moments. Little children call me by my first name and adults who rarely listen to anyone, sometimes listen to me." That was the epitome of Chris' life.
Chris is survived by his mother, Mary Lee Shanahan, and sister, Brooke Larsen, both of Southern Pines, and his dogs Pepper and Ginger, who were an equal source of love and bedevilment for Chris.
A memorial service and celebration of Chris' life will be held Wednesday, Dec. 20, at 1:30 p.m. at Emmanuel Episcopal Church in Southern Pines. A reception will be held afterward at the church.
In lieu of flowers, memorials may be made to Emmanuel Episcopal Church or the Penick Village Foundation.
Powell Funeral Home in Southern Pines is assisting the family.
Memories Timeline
Guestbook
Sign the Guestbook, Light a Candle