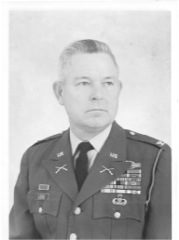 Col. Elbert E. Legg, U.S. Army Retired, 83, died Monday, September 18, 2006, at his home in Pinehurst.
A native of Fola, West Virginia, "Bert" Legg was born on March 17, 1923, and was the eldest of the 11 children of John Curtis Legg and Hattie Holcomb Legg. He entered West Virginia University in 1941 and planned a career in agricultural science before World War II intervened. He was inducted into the U.S. Army in 1943, and was assigned to the 603rd Quartermaster Graves Registration Company. In June 1944, he volunteered to make a glider landing with the 82nd Airborne Division on D-Day, and the next day began the 82nd cemetery at Blosville, Normandy. He transferred to the 82nd after the Normandy Campaign, became a qualified paratrooper, and was the Division graves registration specialist for the remainder of the war in Europe. He made a second combat glider landing in the Market Garden operation in Holland, and participated in the Battle of the Bulge and the final campaign in Germany.
After the war Elbert completed his university degree, but had already decided on a military career. He received his commission as an Infantry Officer in 1948 and began a career that alternated between airborne infantry commands and military intelligence assignments. He retired as a Colonel in 1970 after distinguished service around the world, in both wartime and peacetime assignments. Highlights of his career include command of the 1st Battalion, 505th Parachute Infantry, 82nd Airborne Division, at Fort Bragg and in the Dominican Republic, 1964-65, service as Inspector General of the 82nd Airborne Division, 1965-66, US Army War College 1967-68, service as G2, 1st Field Force, Vietnam, 1968-69, and assignment to the Defense Intelligence Agency, where he served on National Security Council Committees for the White House, 1969-70. He received 16 decorations for valor and achievement, and was decorated by five foreign governments. In June 2004, Col. Legg participated in the commemorations for the 60th Anniversary of D-Day, in Normandy, and in May of this year he was awarded the highest honor bestowed by the U.S. Army Quartermaster branch, the Ancient Order of Saint Martin, for his actions in Normandy in 1944.
Following his first retirement, "Bert" Legg embarked on a 16-year career as a hospital administrator. This included five years as assistant administrator of the Soldiers and Sailors Memorial Hospital in Wellsboro, Pennsylvania, and 11 years of administrative and managerial positions at the Moore Regional Hospital in Pinehurst. He retired from his second career in 1986. Elbert and his wife Patsy were residents of Whispering Pines from 1975 to 2005, when they moved to Quail Haven Village in Pinehurst. In retirement, Elbert served as a hospital volunteer, on the board of Quail Haven Village, and was a founding member of the Sandhills Chapter of the TROA (now MOAA).
Elbert Legg is survived by his wife of 58 years, Patsy, their son Jim, an archaeologist in Columbia, S.C., and nine brothers and sisters.
A memorial service will be held at The Village Chapel in Pinehurst on Saturday (September 23, 2006) at 11:00 AM. The Reverend Larry Ellis will officiate. Burial will follow in Arlington National Cemetery at a later date.

The family is being assisted by Fry and Prickett Funeral Home of Carthage.
Online condolences may be made at www.fryandprickett.com.
Memories Timeline
Guestbook
Sign the Guestbook, Light a Candle