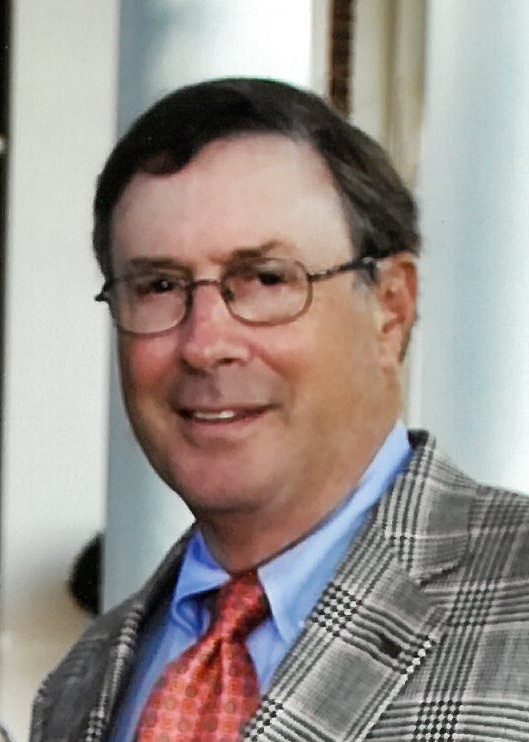 August 17, 1943 ~ February 4, 2021
David Byrd Gwinn died Thursday, February 4, 2021, in Pinehurst, North Carolina, of complications from the Covid-19 virus.  He was 77.
He will be remembered always by his loving wife of 55 years, Molly, his devoted son David and daughter-in-law Janice, and his cherished grandchildren, William and Nora.  He is survived by his sister Anne Gwinn Fox and brother-in-law John Jay Fox, of Richmond, Virginia, by eight nephews, three nieces, and numerous cousins, as well as a bounty of dear friends and colleagues.  He was predeceased by his beloved son William Edward, who died in 1984, and by his older brother, James Anderson Gwinn, who died in 1996.   
Byrd had a long and distinguished career as an executive in the property casualty insurance business.  When he retired after 30 years from the Chubb Group of Insurance Companies as Deputy Chief Underwriting Officer, Senior Vice President and Managing Director, he had managed numerous branch and regional offices for the corporation.  Later, he worked for Kemper Insurance Companies as President of the Northeast Region, with offices in the World Trade Center on 9/11 when the towers were destroyed. Throughout his professional life, Byrd was known for bringing his talent for innovation and a disciplined yet personal management style to all facets of the insurance business.
Byrd and Molly retired to Pinehurst in 2005, following two generations of Molly's family who had loved the community since the 1920s.  Byrd spent many years as a member and president of the Board of Directors for Penick Village.  He also served a number of terms on the Planning and Zoning Board for the Village of Pinehurst.  And he was a member of the Finance Committee of Emmanuel Church in Southern Pines.  He played golf at both the Pinehurst Country Club and the Country Club of North Carolina.  In addition, he could be found daily on the Village walkways with his black and white springer spaniel, Sophie, and generally on Friday nights at 195. 
Byrd was born and raised in Huntington, West Virginia, and never lost his distinctive accent or his attachment to the Ohio River Valley.  He graduated from Culver Military Academy in 1961, Washington and Lee University in 1965, and the Harvard Business School Program for Management Development, in 1986.  He was commissioned as a second lieutenant in the U.S. Army in 1965, and served a three year tour of duty in Mannheim, Germany, retiring as a captain in 1968. Throughout his life, Byrd loved sports and games, as a player and spectator, beginning with his summers as a Little Leaguer and Cincinnati Reds fan and continuing with tennis, squash, golf, and family ski trips.
Byrd had a gift for friendships with his business colleagues, acquaintances from numerous communities across the country, and their children.  He will be deeply missed by so many family members and friends for his intelligence and wit, his curiosity and sense of fun, and for his generous heart.
Memorial gifts may be made to The Benevolent Assistance Fund, Penick Village, 500 East Rhode Island Avenue, Southern Pines, NC, 28387; the William Edward Gwinn Memorial Fund, Haverford School, 460 Lancaster Avenue, Haverford, PA, 19041; or the 22q and You Center, Children's Hospital of Philadelphia Foundation, PO Box 781352, Philadelphia, PA 19178.
Memories Timeline
Guestbook
Sign the Guestbook, Light a Candle