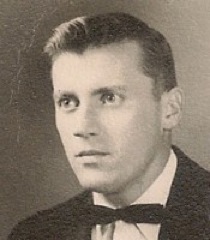 April 26, 1933 ~ January 24, 2011
Michael (Mickey) Gerard Patrick Walsh
Michael (Mickey) G. Walsh Jr., loving husband, father and grandfather joined his wife of almost 52 years in heaven on January 24, 2011. Mickey was born in Flushing, New York on April 26, 1933. Mickey, also known as Dr. (Doc) Walsh, touched the lives of many by caring for animals. Throughout his 50+ year career he touched the lives of many by his diligent care for their pets at his private veterinary practice on Young's Road, his rabies clinics, or at his satellite office in Robbins, North Carolina. Mickey came to Southern Pines with his family and famed father, Michael G. Walsh Sr., of Stoneybrook Farm in the late 1940's. At the urging of his mother he was encouraged to go to Veterinary school. Therefore, as a youngster, Mickey attended Belmont Abbey College where he was valedictorian. He then went to North Carolina State University where he obtained his B.S. in Agriculture and at the time one of only six slots slated to attend Oklahoma State's Veterinary School. Mickey graduated from OSU in 1959 and became one of the first veterinarians in Southern Pines too establish his own practice. For years Mickey was one of only two large animal horse veterinarians in the area handling all of the horses at the Pinehurst Trotting track as well as caring for his father's race horses in Southern Pines. Later in life he transitioned into caring for small animals and worked side by side with his beloved wife Marion until they retired just a few years ago. Mickey was loved by all who came through the doors of his veterinary practice where they were greeted by his big smile, a less than clean joke, or story from his youth which would leave them laughing.
Mickey shared his father's passion for steeplechasing and horses. As a youngster, he won show jumping honors at many places to include Devon and New York's Madison Square Garden. He once out-jumped the Olympic Gold Medalist Bill Steinkraus, memory of which always brought a smile to his face. Over the years he owned and trained a few of his own racehorses with his favorite being GoForAll, a steeplechaser named to 'go for all' his children and wife Marion.
Mickey could always be found in the back of the veterinarian clinic hitting golf balls or playing with his model planes, trains, and automobiles. He always wanted to learn to fly and built several model airplanes to fly; although few flew for very long he loved trying! As a young prep student at Belmont Abbey he also dabbled in featherweight boxing despite being the smallest.
He is survived by his five children, Michael G. Walsh III, Thomas J. Walsh, Tracey W. Harbour, Chrissie W. Doubleday and Tara W. York; his two grandchildren Keely and Kerri Harbour; and his two sisters Pheobe Walsh Robinson and Audrey Walsh Colgan.
Mickey was an amazing husband, father, friend, and veterinarian. He will be missed by all.
Funeral services will be held at St. Anthony of Padua Catholic Church at 12 pm, on Saturday, January 29th. The family will receive guests at Powell's Funeral Home between 5 -7 pm on Friday January 28th, 2011 at 160 E. New Hampshire Avenue in Southern Pines. In lieu of flowers, the family requests donations be made to support First Health Hospice, 150 Applecross Road, Pinehurst, NC 28374.

Memories Timeline
Guestbook
Sign the Guestbook, Light a Candle