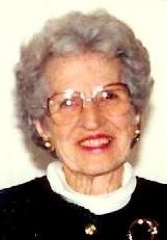 Edna Shields Williamson, 95, passed peacefully at Moore Regional Hospital in Pinehurst on Monday, March 17, after contracting pneumonia.
Edna was born in High Falls, the third of seven children of A. D. and Swannie Reynolds Shields, and was often referred to as "The Belle of High Falls" by her late husband. She finished high school in Greensboro while living with her older and only sister, Annabelle, and subsequently completed a two-year secretarial course at The Anthony Wayne Institute in Ft. Wayne, Indiana.
In 1936 she married Roy Y. Williamson, who was to be her husband for 38 years until his death in 1974. The couple lived in Greensboro for about five years where she gave birth to a son, their only child. In 1942 her husband took a job with the U. S. Army at Fort Bragg and the family settled in Carthage.
Edna became a member of the Carthage United Methodist Church and joined the choir in 1947. She rarely missed a service for fifty-three years until her retirement from the choir in 2000. At various times she was Sunday School teacher, President of the Women of the Church, Treasurer, and Chairman of her Circle. A highlight of her life was being named Carthage United Methodist Church Lay Person of the Year in 1993.
Additionally, she was awarded the honor of Life Membership by the Women of the Church. The homebound, sick, and aged in her church and community were frequent recipients of her tender care and home-cooked meals, which were always prepared and delivered with enthusiasm and love.

Edna began a career with the United States Postal Service in 1948 and retired in 1985 with 37 years of service. She was devoted to her work, completing a training program in Oklahoma and an assignment in Texas, each requiring long absences from home. She returned to Moore County and worked in post offices in Pinebluff and McCain before completing her career as postmaster in the Lakeview office.
The Williamsons lived for 48 years in the home they had built on what was a horse and sheep pasture when the family first moved to Carthage. Edna took great pride in her home, carefully cultivating plants and flowers. Her yard and garden were passions, and she and Roy received several "Home of the Month" awards presented by the Carthage Garden Club. She was also fond of wild birds, each day carefully tending feeders in her yard. In 2005 she moved to Penick Village in Southern Pines.
Survivors are her son, Roy Yates Williamson, Jr. of Key West, Florida, a granddaughter, Laura K. Williamson of Bronxville, New York, and a brother, Charles H. Shields, of Aberdeen.
Friends are invited to visit at the Fry & Prickett Funeral Home in Carthage from 6 p.m. to 8 p.m. on Wednesday, March 19. The funeral will be at 10:00 a.m. on Thursday, March 20, at the Carthage United Methodist Church, followed by a graveside service at Cross Hill Cemetery.
In lieu of flowers, a memorial fund has been established at the Carthage United Methodist Church, P.O. Box 70, Carthage, NC 28327.

Memories Timeline
Guestbook
Sign the Guestbook, Light a Candle