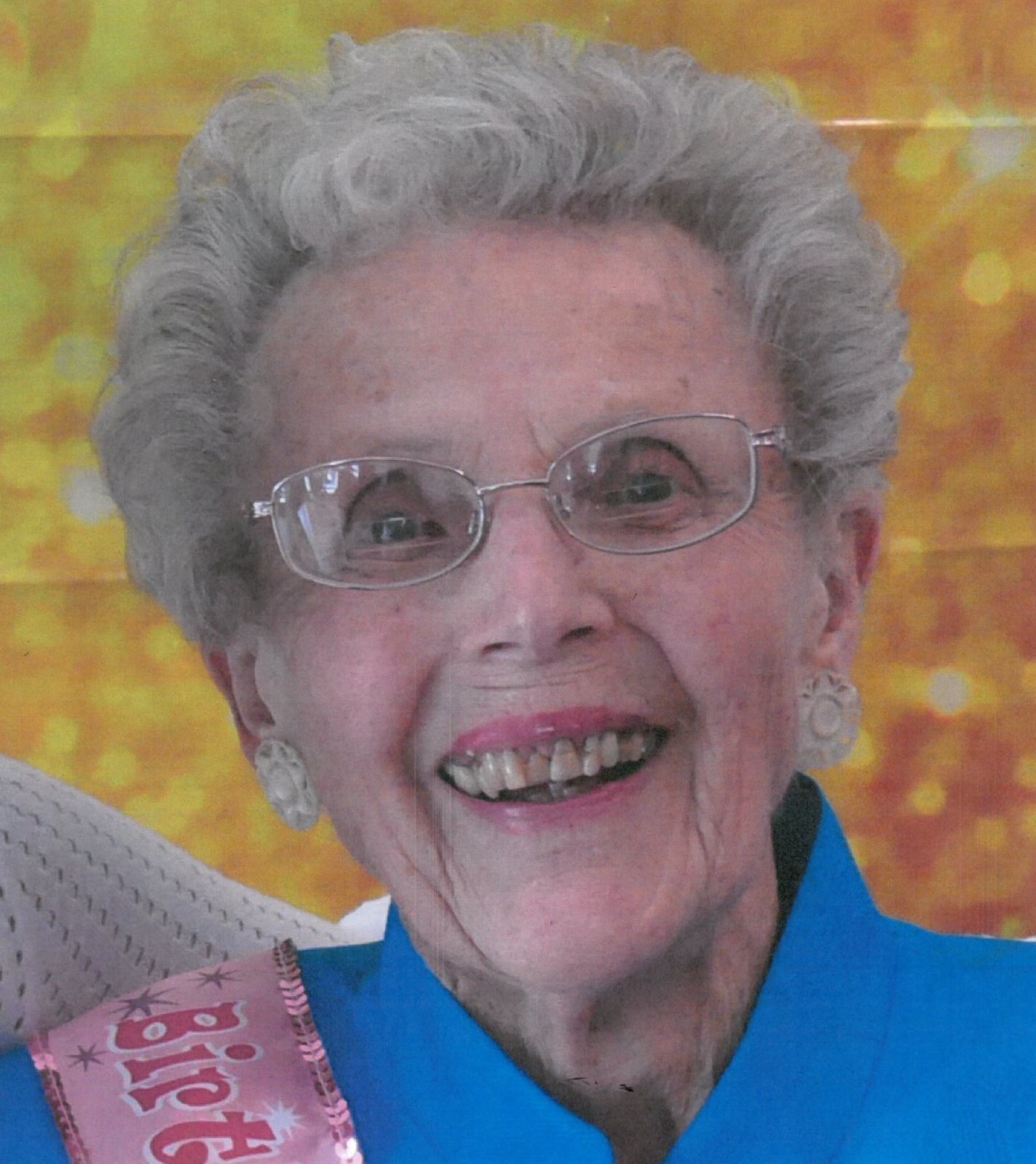 April 23, 1918 ~ February 1, 2020
Elizabeth Ann Spencer Deahl (Libby) passed away unexpectedly at 101 years young on February 1, 2020 with her daughter, Betsy holding her hand.
A private burial was held at Cross Hill Cemetery. A memorial service will be 3:00 p.m. Saturday, February 22, 2020 at Carthage United Methodist Church. The family will greet friends in the fellowship hall following the service.
A Moore County native, she was born in her family home in Carthage, NC on April 23, 1918, the second of five children.
Libby graduated from Carthage High School in 1935. During her two years of study at Florida State Teachers College she met her future husband, Sam Deahl. She completed her teaching degree from UNC Chapel Hill in 1939. Teaching History and English in Candor, NC, she began her career during one of the richest experiences of her life, which included residing in a local boarding house with other young professionals. Sam wooed her through many visits and letters until their subsequent marriage in October 1940.
Following their honeymoon, she and Sam moved to Evanston, Illinois where Sam resumed leadership of his family linen service. For the next 45 years the couple raised their three daughters, Lamar, Carol and Betsy on the Chicago North Shore. The girls fondly recall family outings, sailing on Lake Michigan, snow skiing in Wisconsin, church activities and Girl Scouts. When the girls were mostly grown and in college, Libby returned to teaching and made significant contributions impacting young lives at Northfield Community Nursery School.
Libby and Sam moved back to NC after retiring to care for her mother. Libby became involved in church activities, the Gideons International, the DAR, and her main love, gardening, while Sam enjoyed his workshop and projects. They were happily married for 71 years until Sam passed away in 2011.
Libby was an avid reader. She was active in the Carthage Garden Club until her death. She and Sam were very involved in the local prison ministry at the Carthage jail, leading bible studies and prayer groups. A renowned storyteller, she kept everyone in stitches with her stories about growing up in historic Carthage.
Mrs. Deahl was preceded in death by her parents, Lena Fowler and Colin G. Spencer, her sister, Mary Fowler Griffith, her two brothers, Colin Spencer, Jr. and John A. Spencer, husband Sam Deahl and daughter, Mary Carol Clow. She is survived by her sister, Lamar Verch, her daughters, Lamar Blum and Betsy Spencer and three grandchildren, Edward Clow, Christy Erbeck and Rebecca White, five great grandchildren and eighteen nieces and nephews.
Memorials may be made to: Carthage United Methodist Church, P.O. Box 70, Carthage, NC 28327 or Gideons International – Moore County Camp. PO Box 448, Southern Pines. NC. 28388
Services entrusted by Fry and Prickett Funeral Home
Condolences may be offered online at www.pinesfunerals.com
Rebekah King with the Pinehurst Gazette had the privilege to publish an article on Ms. Deahl titled "100 Years with Miss Libby" which can be found below for those who would like to read it.
*******************************************************************************************************
100 Years with Miss Libby
by Rebekah King
Life is— "a joy!" exclaims Elizabeth Spencer Deahl, and what a joy it was to interview this incredible woman who celebrates 100 years of life! Known to all as Miss Libby, she continues to inspire others with her wit, wisdom, and wonderful laughter. Welcoming me into her home, Libby settles back on her floral sofa as her daughter Betsy joins in the story. From growing up in Carthage to raising her family in Chicago, to coming back home, Libby has seen tremendous change over her one hundred years, but one thing that hasn't changed is her positive outlook on life, and I've found that makes all of the difference.
In summarizing life, she smiles, "Growing up in Carthage was fun; I loved every minute of it. When I came back, I felt like I'd never left. I've been fortunate to have had a very happy life and be surrounded by people who were happy." As I congratulate her incredible journey, she humbly smiles, "I don't know about that; I just bounce with the knocks." Betsy questions, "Is that like saying, 'You just roll with the punches?'" We all laugh along with this lovely little lady who is as amazing as her one hundred years. Come join us, there's room for another.
On April 23, 1918, Libby was born at home, one of five children, the second in line. During those days, women gave birth at home; a doctor would deliver the baby, and then a nurse would stay for a month or two to assist in the care. With an older sister Mary Fowler, Elizabeth Ann (Libby) was followed by a brother Colin George, Jr., a sister Lamar, and the youngest boy John Addison Spencer named for a great grandfather who is buried in the Cross Hill Cemetery in Carthage. Of the five children born to Colin George Spencer and Lena Fowler, Lamar Spencer Verch of Rockhill, SC, and Libby remain.
While their families vacationed in the mountains of North Carolina, Libby's parents met, and a relationship blossomed. Upon graduating from the school of agriculture at NC State, Colin married Lena. They were living in Mebane, when Colin's father remarked, "There are lots of pine trees down in this area; you should start a lumber mill." Soon after, Spencer Lumber Mill was established where the John Deere and McDonalds stand today in Carthage. Workers at the planer mill would go into the woods, cut down the trees, and bring them to the mill. Colin had the largest saw dust pile in the area! When the mill closed at noon on Saturday, they would blow the whistle, and the children would come from everywhere to slide down on their planks of wood. Miss Libby explains, "We would carry our planks all the way to the top—over 100 feet high! Then we'd slide down! The planks were as slick as glass from the rosin in the saw dust, and we held on for dear life! We had great fun!"
With the growing family needing more space, the Spencers moved to downtown Carthage. When her father bought the house, Libby remembers, "Mother said, 'Oh, that's the ugliest house in town. I don't want that house.' But Colin bought the property for the land and explained, 'We're not going to live in it for long. We'll build a stone house with all of the beautiful blue stone from the farm.' As time passed, the five children came along with the Great Depression, and the stone house never got built." Nonetheless, the home became a beautiful place to raise their children and the best hangout in town! The neighborhood children came to play baseball, and others came from all around to see the flourishing gardens as Colin and Lena loved growing camellias, fruit trees and flowers.
Back in the 1920's, a railroad went through Carthage from Cameron. The road is different now, but there used to be a cotton gin on one side of the road and the planer mill on the other. When the train came into town once a day, the children would run down to the tracks to wave at the conductor. Libby laughs,
"We thought that was the greatest thing ever!"
Libby still remembers picking dewberries that went out on the train. "My brother and I would get a bucket and a straw hat, and we'd walk to McDonald's dewberry patch. They would give you a wooden basket with four little baskets and put you on a line to pick. They paid you with a little token, and you went back on Saturdays to get your money. I can't remember if we ever made a dime, but we thought we were rich because we ate as many berries as we picked."
Carthage was home to a vibrant downtown with many places to shop. Just about everybody in town worked for the Tyson and Jones Buggy Factory, but once the automobiles came in, Tyson and Jones went under. Carthage even had their first automobile sales store in town along with a hotel, a food store, drug store, and a dry goods store. Libby tells, "We only had one drug store, but years later, Shields Drug store opened on the corner and carried a little bit of everything. All of the ladies would go up there and have a 10 o'clock Coca Cola from the soda fountain."
In those days, the women didn't work but were privileged with paid help to manage their housework. However, the ladies would visit and chat, "Gossip really," laughs Libby. "Carthage was very social. I remember Mother taking me to visit the Carters who had six boys, and Mother always took some vegetables because dad owned several farms over in Glendon and some on Bethlehem Church Road. Many of the farmers were sharecroppers―meaning if a farmer didn't have enough resources to farm the land, then he would let others plant, and they would share the crop. I can remember waking up to bushels of produce on the porch as the farmers would share their garden with us."
Carthage Elementary School offered five grades, and all of the children walked to school. On Friday nights, they'd feature a silent movie with popcorn. Libby's neighbor Roselle Williamson played the piano, and whenever the movie, mostly Westerns, got exciting, she banged on that piano." Ever since they tore the old school down, the lot near the apartment house has remained vacant.
Roselle's mother grew up in the house that the Spencers were living in, built in 1839. Using logs to roll the two houses together in 1860, the house remains on logs and is put together with wooden picks. One part of the home was the Humber Boarding House. When Mr. Humber died, Mrs. Humber took in boarders to survive. "In those days, you had to make a living because there wasn't anything like Social Security," explains Libby. "You either saved money, worked all your life, or your family took care of you. Normally generations lived together."
From grade school, the students attended Carthage High School over where the elementary school is now; Mr. Welsh was the wonderful superintendent. Libby shares, "All the boys and all the girls would pair off. Our parents didn't want us to date one boy exclusively to keep us from getting interested. One time, the boys heard that the train in Southern Pines was offering a round trip to Jacksonville, Florida for $2.50. While most of the kids had never been to Florida, we decided to go. Of course, we always had chaperones, so Mr. and Mrs. Poole agreed to go as did Mr. Beasley, the editor of the Moore County News, currently the Pilot, published right on Main Street in Carthage."
"All night long we ran up and down the aisles of the train," laughs Libby. "If anybody went to sleep, then we put toothpaste on their face and they'd slap it! Once we arrived in Florida, we took a side trip to see the sites of St. Augustine, the oldest town in the US."
Back then, people traveled from school to school to organize shows of song and dance; everyone in town participated. Well, they had a show coming that same weekend the students went to Florida. When Principal Welsh learned that the kids wouldn't be there, he nearly fainted, but he appreciated the opportunity for the children and rescheduled the show. During the Depression, schools only had 11 grades and operated for 8 months from September to the end of May. Regrettably, these were also the days of segregation, and the Pinckney School welcomed children in the neighborhood as well.
Just as everyone walked to school, the Spencer family also walked to the Methodist Church. They attended church so frequently, they wore a path to the church yard.
Summertime was so much fun, and all of the children would put together a circus. Gathering all kinds of animals, they would dress them up, parade them all around town, and put on a show. Libby adds, "Dad used to bring home different animals from the farm, and one time the boys thought, 'Why not paint the calf in stripes and make him look like a tiger?' Of course, my dad didn't think that was such a good idea!"
During this time, the growth of the automobile brought change; Libby recalls her first car memory. Because her mother grew up in Apalachicola, a sea coast town, the family traveled to Florida several times a year. "It took us three days to drive to Florida with five kids in the car and the luggage tied on the running boards," begins Libby. "We had a big Franklin; which didn't require water to run like all of the other cars. Back then you drove up to a filling station, and the first thing they would do is top off your radiator with water. Dad would drive up and say, 'Now, watch this kids.' The attendant would run to put water in and fuss and fuss over trying to get the ornament off. Of course, all of us were laughing our heads off when the poor boy realized, 'I'm sorry, Mr. Spencer. I can't get this off.' He'd say, 'Don't worry about it; I don't need any water.'"
Everybody loved being at the Spencer's home. With the Depression, no one had ten cents to play a round of golf, so Libby's dad said, "We'll fix that." He made a little miniature golf course in the yard for all to enjoy. Captain of the football team at State, Libby's dad was a great sportsman who loved all kinds of games. All of the boys would challenge him, but Dad always won! Libby smiles, "We had a very happy home with a big house, a big table, and everybody was always welcomed."
In spite of the hard times, the Spencer family continued to help others and spread joy. In fact, Libby's mother used to say, "I know they've got the sidewalk marked down front. Cook as much food as you can because we'll have people asking for food." There were loads of men, women, and children all wandering around town in need during the Depression years."
When the banks closed in Carthage, and never reopened, that really hurt Carthage because everybody lost everything. Around the late 1930s, when President Roosevelt was in the White House, Eleanor Roosevelt wanted all the small towns to have a meeting place. The town had to provide the land, but Carthage neither had the money nor the land. Dad figured, "We don't need all of this yard; let's donate the lot. Eleanor built her stone building incorporating the WPA workforce. "She came for the dedication, and Oh, it was wonderful!" exclaims Libby. When she married in October 1940, her wedding reception was the first event in the building.
Carthage utilized the crank-style phone for town use. Libby remembers the one hanging on the wall in their house. "I would crank the thing and say, 'Central? I want mother.' And she'd say, 'Well, your mother's sitting on the hotel porch. Is it necessary that you call her?' Another time, when I was dating my husband, he called, and Central said, 'Well, I tell you she's not home; she's at the Pinehurst Country Club dance.' I could've shot her because it was none of her business! Central knew everything about everybody as they would listen over the phone!"
Just as Carthage was a social place, Pinehurst was a small, elite community. However, they did offer the Village Theater, and on the nights of the show, Mr. Pickay would be out there in his tuxedo greeting everyone by name. Libby says, "He knew father and mother and would say, 'I've got your box seat ready.'" When the show was over, he was there to tell everyone goodnight. Pinehurst also made Christmas special for the locals in hosting a party at the Pinehurst Club House."
Southern Pines was more of a regular town with homes and interesting shops. Libby's mother used to shop in Southern Pines mainly for clothing, although they had a family seamstress. As a child Libby hated those days. "Sometimes I'd have to spend the whole day with the lady who would put me up on her table and measure and measure. I'd think, 'Oh, lady, hurry up.' She would call some of her grandchildren to come and play with me while she sewed." Libby also remembers going to eat dinner for special occasions at the hotel in Jackson Springs that one of her dad's college friends ran for a while.
Graduating from high school at 16 years old, Libby considered many options for college. She wanted to go to Duke, but of course, they didn't accept girls. When a friend recommended that Libby attend Florida State College, the largest girl's school in the United States, she enrolled and joined the Sigma Kappa sorority. When her Mother encouraged Libby to attend school locally, she enrolled at Carolina after two years in Florida because UNC didn't accept women as freshmen and sophomores. Graduating from UNC in 1939 with a degree in education, Libby smiles, "I loved both schools! I met Sam, my future husband, at one of the sorority dances."
Wanting to finish college and earn her own money before getting married, Libby tells, "I thought it was going to be the greatest thing ever to earn some money. I got my first job in Candor as a 7th grade social studies teacher. My paycheck was $97.50 a month, and I thought I was rich! For around $35 a month, I stayed with Mrs. Steed, the widow of a big peach farmer who boarded teachers for financial reasons. We had so much fun that I didn't want it to end." (Steed Hall at Sandhills Community College was named for Mrs. Steed's son who donated the Agricultural building.)
Meanwhile, Sam attended college in Gainesville, Florida. When he wanted to learn how to fly, Sam enrolled in Ryan's School of Aeronautics in California and took flying lessons with Amelia Earhart and a friend named Jack. Somehow Jack crashed Sam's airplane, so that ended that. Nonetheless, Sam kept pursuing Libby through letters.
Hailing from Chicago, Uriah Samuel Deahl, Jr. known as Sam, soon won her heart, and they were married on October 26, 1940. Libby was the first one of the siblings to marry, and her father was in tears. He wanted Libby to check out Chicago before moving there, so Libby explains, "His mother had to write my mother to invite me. They had a home on Lake Michigan, and that's where Sam proposed."
Once the newlyweds moved into the apartment near Northwestern University, Libby realized she had to learn how to cook. Betsy jumps in, "Now this is my favorite story!" Libby continues, "Every day I would take the train to Marshall Fields. On the 8th floor, they had a cooking school, and I attended class and then went home and tried to cook the recipe."
In those days, weddings were highly social, and Sam and Libby had a big wedding. Libby remembers, "We received a lot of gifts but not one kitchen item. When we were first married, Sam's mother saw me stirring a pot with a sterling silver spoon. All I had was sterling silver! However the butcher down the block helped me. Whatever he said, I would do it. We ate lamb chops for the longest time because that was the only thing I knew how to fix."
Betsy tells, "Mother still has a lot of her wedding gifts, and the favorite item remains Mom's Joy of Cooking cook book which is literally falling apart because she lived in that cookbook and became an excellent, excellent cook."
Sam took over his family's commercial laundry business called Derby Linen Supply and handled laundry for hotels and restaurants in downtown Chicago. As Libby kept the home, she also learned how to get around all over Chicago. She exclaims, "I didn't even have a driver's license, but you didn't need one back then."
Enjoying their honeymoon until well-after Thanksgiving, Sam and Libby traveled from Williamsburg to New York, then a cruise to Bermuda and onto South America with Ralph Bellamy, a popular movie star at the time. Coming home to Chicago in the winter was unforgettable. "When we went by the Lake, we saw this big white thing go up—it was a wave frozen in the air; I thought it was just gorgeous!" states Libby.
When the couple realized a baby was on the way, they moved from the apartment in Evanston to the suburbs and soon welcomed their first baby. The first of three daughters, Ann Lamar was born in 1942; Mary Carol in 1945; and Betsy in 1948. Miss Libby was able to stay home with all of her daughters; she and Sam were blessed with a wonderful marriage.
Betsy exclaims, "My childhood was idealistic. In our neighborhood, homes were graced with big trees and sidewalks where we could roller skate and ride our bikes to the lake. All winter long, we went ice skating and skiing. Everybody attended one school from kindergarten to 8th grade; there were no buses, so you either walked or rode your bike. Everybody was either a girl scout or a boy scout, and everybody went to church. I enjoyed a classic 1950s mid-American awesome upbringing."
Betsy continues, "I hate to say we were privileged, but we really were. Last fall, I attended my 50th high school reunion, and we had the best time remembering growing up in Kenilworth!" As the three girls grew up and went off to college, Sam and Libby downsized to a smaller home and Libby returned to teaching—nursery school this time around.
Coming home to North Carolina came with joy and sadness. When Colin passed away from a heart attack, Lena was devastated. Libby tells, "My parents were very close. After his retirement, they'd go to a State game in the afternoon and then to see Carolina and Duke play in the evening. They both were musical. Dad sang his way through college, and mother majored in music and played the organ in church. Thank goodness my brother Colin, Jr., lived next door and could check on mother."
As time progressed, Colin, Jr. couldn't handle all of Lena's care. Considering retirement anyway as they had closed the linen service in Chicago, Sam and Libby agreed to move to NC. Lena lived for another three and a half years.
Upon moving to NC, Sam enjoyed a chance to do things of which he had only dreamed. He built a workshop onto the garage, and Libby declares, "He had every tool that was ever invented, I'm sure!" Interested in the Gideon's ministry, Sam became involved and served in a jail ministry and correspondence course for inmate. Serving on the town board for a while, Sam really loved Carthage." The couple were married over 50 years before Sam passed.
In celebrating 100 years of life, Miss Libby offers a few contrasts from the good old days to the present. "Oh there is too much traffic, too many people, and everywhere you look, they are building more buildings!" Why all of the people? Libby continues, "The people come for the weather, but most importantly, they come for the lifestyle."
Libby continues, "Life's so geared up; children don't know how to relax. All these phones and ipads are wonderful but at other times—really sad. I don't understand how families don't make the time to sit down and enjoy a family meal together. Families are too busy with both parents working. I look at my grandchildren and think, 'I don't know how they're going to handle this.'" With three grands and five great grands, family remains incredibly important to Miss Libby.
Miss Libby's gardening interest began with her commitment to a victory garden during World War ll as a young mother, growing tomatoes for the neighborhood in Wilmette, Il. As a successful and enthusiastic gardener, she still enjoys working daily in her yard. She is particularly fond of propagating plants to add to her garden and indoor collection, as well as digging in compost to enrich the soil. Miss Libby remains an active member of the Carthage Garden Club and warmly recalls serving as club president in the past.
The Gideons International has been a part of Mrs. Deahl's life since the 1950's when residing in Kenilworth,IL. She is still active as a Legacy Auxiliary member in the local Gideon Moore County Camp.
Treasuring time with her daughter Betsy, Libby still attends the Methodist Church in Carthage, and as tradition would have it, Sunday dinner is always shared at Pete's Diner. Libby raves, "Everything I've ever eaten there has been very good. I just love their cucumber salad with their secret dressing! It's like old home week every time we visit Pete's." Betsy agrees, "It's as much social as it is food."
Still healthy at 100 years old, Miss Libby is blessed. She enjoys big green salads with protein along with lots of vegetables. And ice cream! Lots of it! Fudge Ripple to be exact! She laughs, "I used to be a little more careful about eating too many sweets, but I do enjoy ice cream and chocolate!" She remembers when the cook would make homemade ice cream. "The ice man would bring us a big hunk of ice, and we would pack the old hand crank ice cream freezer full of hand-chipped ice. Then somebody would sit on it while another cranked. Making ice cream was a lot of work, but we didn't mind."
From family, to food, to secrets for living a century, Libby assures, "There are no secrets except to realize that every gift comes from the Lord, and I think if people realized that, then they would be much happier. I think the first thing is to love the Lord, to know Him, and to trust Him as He has promised to care for us."
In looking back, Libby ponders, "I don't know that I would change anything about my life. Things just kind of fell into place just the way they should. I don't know how they did, but I am thankful."
She's one of a kind―beloved by all who know her. Appreciating all of the love shared at her 100th birthday celebration, Libby remembers the day with JOY! Now if she could just find that little book of pictures from the party…
Memories Timeline
Photo Gallery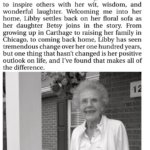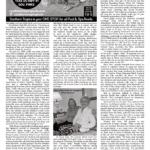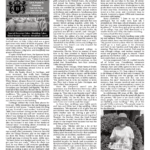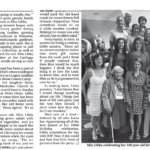 Guestbook
Sign the Guestbook, Light a Candle