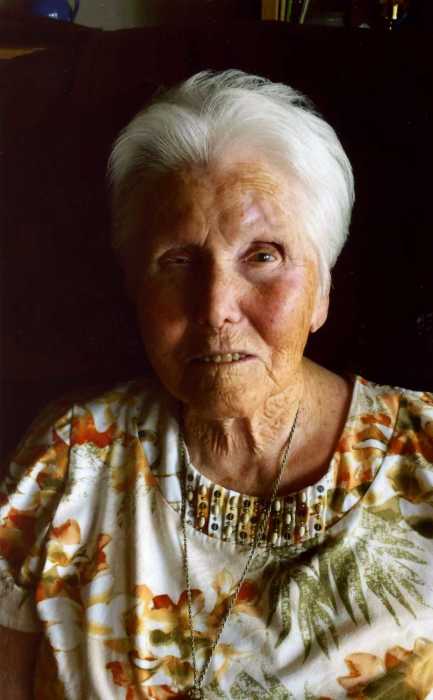 Era Mae Rickman died Friday, May 24, 2019 at Penick Village. Daughter of the late John and Mattie Richardson, she was also preceded in death by her husband, Harold F. Rickman, son, Alexander Rickman, and sisters Ethel Trotter and Eva Dowd..
She is survived by daughter, Vicki Rickman-Hartig (Jerry), grandson Jeremiah Rickman, brother, Rev. Earl Richardson, sisters, Carletta Cagle, and Georgia Bean, sister-in-law, Edna Lance, and brother-in-law, Joe Rickman as well as numerous nieces, nephews and their children.
Era Mae was legally blind since her birth in 1924 but never considered herself handicapped. She graduated from Western Carolina University in Cullowhee with a degree in Elementary Education. She married Harold in 1947 and after her graduation the couple returned to Moore County where Era Mae taught in the elementary schools of Robbins and High Falls and later at the School for the Blind in Raleigh.
In 1954 the Rickmans moved to Ohio where Era Mae earned a Master's degree in Education Supervision. She earned another 30 credits in connection with her job training student teachers at the Ohio State School for the Blind.
After their retirement, the couple returned to North Carolina where Era Mae became active in volunteer programs. When she learned that there wasn't a Radio Reading Program available, she connected with Fayetteville State University and eventually was able to organize and raise $20,000 through individuals, churches and civic groups to fund the project and to supply visually impaired individuals with radios. The program went on air Jan.4, 1988 and continues to this day.
Traveling with her husband, Era Mae visited all 50 of the United States, the Holy Land, British Isles and Europe. After retirement, they became active with Senior Games in which Era Mae continued for many years following Harold's death.
After her move to Southern Pines, she became active as a member of the Southern Pines United Methodist Church and served in many appointed positions. She also coordinated the Senior Adult Luncheon program, established a Bible study for adults with special needs and participated in a mission trip to Peru. In addition, she volunteered as a visitor for Hospice patients at St. Joseph of the Pines.
She was generous with her time and financial support to numerous community projects, including the establishment of the Moore Free Clinic, Family Promise, and pre-planning for the now active Moore County Senior Enrichment Center.
Though failing health restricted her activities in recent years, Era Mae continued to be a faithful disciple and outstanding example of what can be accomplished in life even with such a visual challenge .
Services will be conducted at Southern Pines United Methodist Church, 175 Midland Rd., SP, NC 28387 at 2:00 PM, Monday May 27, 2019, officiated by Reverend Tommy Sweeley and Dr Mark Wethington. Burial will follow the service at Browns Chapel Christian Church, 608 Browns Chapel Church Road, Robbins, NC.
Her family extends sincere thanks to the many friends and professionals who assisted her over recent years, with special appreciation to her long time physician, Dr. Robert Deucher, the staff of Penick Village and to Teresa, Laura, Tina, Kim, Inez, Kenya and other caregivers who provided such loving and professional service to her.
Memorials may be sent to Southern Pines United Methodist Church or to a charity of your choice.
Powell Funeral Home is assisting the family.
Memories Timeline
Sign the Guestbook, Light a Candle