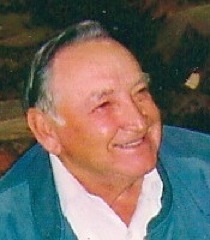 November 12, 1930 ~ January 19, 2011
Frank Bryant, age 80, of 444 Bryant Road died Wednesday (January 19, 2011) at FirstHealth Moore Regional Hospital in Pinehurst.
Graveside services will be 2:30 PM Sunday at Cross Hill Cemetery conducted by the Rev. Wayne Jones and the Rev. Gregg Newton. The family will receive friends at the residence Saturday from 6:00 - 9:00 PM.

A native of Moore County he was a son of the late Rufus Ellis Bryant and Ida Maude Key Bryant. He was a tobacco and cattle farmer and for the last several years grew produce for local markets and individuals who came by the farm.

Frank Byrant was an icon of Moore County Agriulture. 'I was born in hard times, but we lived a very happy life.' Things that made him happy were family gatherings, a ripe watermelon and making ice cream. He loved his family and served his community. He enjoyed growing quality tobacco and produce, raising poled hereford cattle and, he still loved to fish, hunt quail and listening to a trailing hound.

He was positioned on many boards and councils associated with the agricultural and banking communities. He was a founder and general manager of the Carthage Cooperative Tobacco Warehouse which was a model of success and inspired many other farmer owned co-ops in the state. He was well known for his generosity and his ability to 'get the job done' he was a receipient of the Jefferson Award, presented by WTVD in recognition of his contributions to his fellow man. He also was the receipient of the Outstanding Farm Business Family Award presented by the Sandhills Area Chamber of Commerce, just one example of many accolades accumulated over the years.

He was preceded in death by his wife Clara F. Bryant who died in 2000. Frank would later marry Hazel Warner Bryant who passed away in 2007.

He is survived by: daughters Faith Bryant, Marie Bryant, and Marcie Ring; sons Terry Bryant, and Tim Bryant; step-son Micky Ray; sisters Betty M. Russell, Rose Denny, Wilma Turberville and Ruth Barger; brothers Billy Bryant and Charles Bryant; nine grandchildren and one great-grandchild.

Memorials may be made to: Gideons International, P.O. Box 1430, Carthage, NC 28327.

Fry and Prickett Funeral Home is serving the Bryant family.

Condolences: www.PinesFunerals.com.

Memories Timeline
Guestbook
Sign the Guestbook, Light a Candle