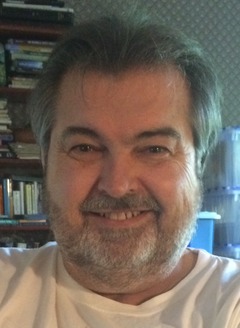 May 7, 1951 ~ May 13, 2015
George Ivan Blonsky Jr. 64, of Pinehurst, NC, passed away Wednesday, May 13, 2015 at his home. Born May 7, 1951 in New Brunswick, New Jersey, George was a strong-willed, talented, and accomplished man who completed many diverse projects during his 20 year career as a Sr. Vice President at Pinehurst Resort. He was a supportive father who was always there for his daughters, and a devoted husband who cherished his wife Lee Ann and cared for her compassionately throughout a long illness.
In his spare time, George enjoyed working in the various gardens surrounding his home and taking long rides on his motorcycle. He loved music and playing his guitar. Laying in his hammock was a favorite past time, and he was an incredible basketball player who played throughout high school and his early college years. There was rarely a moment when he was apart from his dog Gracie, who was his constant companion. She stayed faithfully by his side at the time of his death.
He is survived by his two daughters Erica Blonsky and Michelle Blonsky, his brothers Doug Blonsky and Gary Blonsky, his sister Kitty Melfi, his mother Kathryn Blonsky, and numerous nieces, nephews, and in laws. He is preceded in death by his father George Ivan Blonsky Sr, and his wife Lee Ann Blonsky.
The family will receive friends 11:00 am Friday, May 22, 2015 at Powell Funeral Home, 160 East New Hampshire Avenue, Southern Pines, NC. A memorial service and celebration of life for George and Lee Ann will follow in the Chapel at 12:30 pm with Tom Thompson officiating.
Memorials may be made to : Powell Funeral Home and The Awakened Heart Center.
Condolences: PinesFunerals.com
Tribute Video
Memories Timeline
Guestbook
Sign the Guestbook, Light a Candle