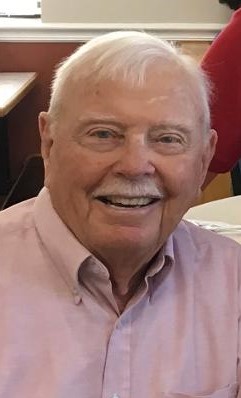 Jack Floyd Ayers, age 97, died October 25, 2020 at his home in Carthage, NC surrounded by the love of his family. 
He was born October 23, 1923 to James Robert Ayers and Josephine "Josie" Williams. His happy childhood was spent in Yoakum and Sweet Home, Texas with three brothers and a large extended family. In simpler times, he said he took off his shoes the last day of school and didn't put them on again until he returned. He admired the horsemanship of the Indigenous People of the Plains and rode his pinto pony Tony bareback with a jaw string. In most pictures from his childhood his arm is slung across the shoulders of his younger brother Truman.
From his home across the street from the High School stadium, he loved to peek through the fence at the play.  He and Tony were adopted by the football team as their mascot, and later Jack played running back on the team's championship squad.
He told the story of riding Tony down the middle of the school's brand new clay tennis court. Stopping halfway he saw the damage he had done. What a dilemma! What to do? Seeing no alternative, he rode on. Monday morning when the principal called him to his office, he knew exactly why.  "Jackie, did you ride Tony over the new court? "  "Yes sir", he replied. "I saw where you stopped half way. Why didn't you turn and go back?"  "Never thought of that, sir."  He had to do a lot of extra chores to repay his father for the resurfacing of the entire court.
He graduated from the US Naval Academy in 1947, in the same class as Jimmy Carter, and served for seven years in Naval command both in the Mediterranean and Pacific. Sadly, Truman was killed in the Korean conflict.
On July 21, 1951, he married the love of his life, Rosalind Smith Ayers, and they raised three children in Pittsfield, Massachusetts, Arlington, Virginia and Lyndell, Pennsylvania.  There were always pets in their home and he loved them all. 
He worked in the GE Aerospace Industry for seventeen years and as a 5th grade teacher for another thirteen.  His love of math, science, poetry and story telling made him a favorite among his students. 
In 1986 Jack retired, and with his wife hand built a home overlooking the Harrington River in Maine.  Rosalind learned to sail and some of his happiest memories were of their time aboard the Montya. He contended there was nothing better than sailing with his grandchildren at the helm.  In 2005, they moved to Hilton Head to enjoy the warmer climate.  He took tennis lessons and often outdistanced everyone on his bike.  In 2015 they moved to Carthage where until age 95 he rode his beloved Morgan Gunsmoke. He enjoyed mowing, fence building and watching the horses and birds out his kitchen window. Jack's humor, curiosity, knowledge and interest in others made everyone he met love him.
Jack was intensely patriotic, an avid reader of history and he watched every presidential debate and many Congressional hearings from 1958 to the present.  He was deeply committed to equal and civil rights.  
His family also included:  Adeline Ayers, her wife Patricia Boland of Baltimore, MD, and their daughter, Lauren Wirth-Ayers; John G. Ayers and his wife Susan H. Chickering, of Plainfield, VT, and their children, Allison Chickering-Ayers, Lars Chickering-Ayers, Gabriel Jack Ayers and Silas Truman Chickering-Ayers; and Elizabeth Truman "Molly" Ayers of Carthage and her children, Damion Lyles and Ginni Rose Lyles and her daughters, Gemma Kawena Lynn Lyles and Myra Anne Marie Haselton.
A memorial service will be held after COVID-19 is resolved.  In lieu of flowers the family asks that donations be sent to the Moore Humane Society or your local Food Pantry. 
Online condolences may be made at PinesFunerals.com
Memories Timeline
Guestbook
Sign the Guestbook, Light a Candle