James Brewer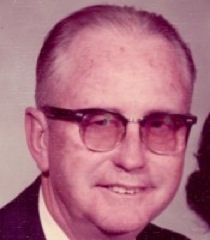 November 22, 1918 ~ June 28, 2010
James Fulton (Jay) Brewer 91, of Eagle Springs died June 28, 2010 at First Health Moore Regional Hospital of natural causes. The family will be receiving friends from 6:00-8:00pm, Wednesday, June 30th at Kennedy Funeral Home in Robbins.
Jay Brewer was born November 22,1918, in Moore County, North Carolina. He was the second son of Doctor Franklin Brewer and Bertie Alma Williams Brewer. When Jay was about fifteen months old, his Mother died during an influenza epidemic. This left Jay and his older brother Lacy motherless. After their mother's death, the two young boys were raised by their maternal grandparents, James Madison Williams and Rebecca (Jim and Becky) Williams of Eagle Springs. Jay and Lacy also spent their early formative years with their Aunt Blanche and Uncle Lucas Williams of Eagle Springs.
As an adult Jay Brewer married Miss Bessie Furr in 1941. They made a home in Eagle Springs and reared two children, James and Ann.
Mr. Brewer was a professional welder, construction supervisor, and ran a successful salvage [B&B Salvage] business with his son, James. Jay Brewer also had the distinction of helping build the site of the first lunar space shuttle and helped with the completion of the first atomic bomb complex.
Jay was a member of the Robbins Masonic Lodge AF/AM for fifty-plus years and a founding member of the Rock Hill Friends Church of Eagle Springs.
Mr. Brewer was preceded in death by his parents, his beloved wife, an infant son, Archie Willard Brewer, his brother Lacy Wilford Brewer, sisters Virginia Brewer Smith, Bonnie Brewer Wood and a stepmother, Mary Connell Brewer.
Mr. James Fulton (Jay) Brewer loved and adored his family. He is survived by his son, James Wilford Brewer of Eagle Spring and his daughter Mrs. Ann Brewer Eldridge and husband John M.Eldridge III of Broadway, N.C. His grandchildren are Laura Brewer Clark of Eagle Springs, Stephen Cockman of Wilmington, NC, John M. Eldridge IV and Matthew Eldridge of Broadway, N.C. Additionally, Mr. Brewer is survived by his great-grandchildren, John M. Eldridge V. and Hunter James Eldridge of Broadway, N.C and brother Arthur Brewer of Eagle Springs.
He will be loved and remembered by those who knew him.

Memories Timeline
Guestbook
---