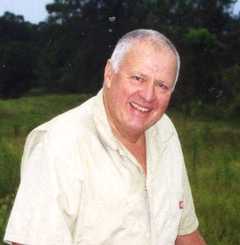 September 30, 1932 ~ August 31, 2016
John Irwin Dahl of Vass passed away August 31, 2016 at the age of 83.
A memorial service is planned for 10:00 am Saturday, September 10 at their residence with Elizabeth Wright Taylor presiding over the service.
Born in Duluth, MN, John was the son of the late Irwin Russel Dahl and Anne Judith Smith Dahl. John grew up in Minneapolis and was an avid hunter and fisherman, and a craftsman who tied flies, carved beautiful decoys, and loved working with wood. He loved music, especially blues and jazz. He performed as a blues shouter while still underage, bringing this black music form to a wider audience. John earned his MFA at the University of Minnesota and taught painting and sculpture first in North Dakota, later in North Carolina and Maine. He attended the March on Washington for Jobs and Freedom with a group of his students. In 1971 John left college teaching to train retrievers professionally. He competed successfully in retriever field trials and trained many hunting dogs, with a particular affinity for the Chesapeake breed. John was passionate about the things he loved: ducks, the outdoors, good craftsmanship, art, music, good dogs, home, and family. He always pursued his own vision, always true to himself.
John leaves behind his loving wife of twenty years, Amy Elisabeth Frost Dahl, and their children, Ruth Ariadne Dahl and Charles Joseph Dahl.
His former wife, Jacqueline Moss, preceded him in death. They shared five children Cathleen Mary Dahl Matschy (husband Dr. Herwik Matschy), Lisa Christine Dahl, Sarah Dahl Lance (husband Dr. Scott Lance), Anton Christian Dahl III, and Laura Kay Dahl Khatibzadeh (husband Dr. M. Ali Khatibzadeh), seven grandchildren Nina Fejer (husband Timon Fejer), Roxanne Dahl Smerker (husband David Smerker), Jack Dahl, Ian Dahl, Dr. Sarah Marie Khatibzadeh (husband Dr. Gordon Briggs), Natalie Mae Khatibzadeh, Julia Faye Khatibzadeh, and four great-grandchildren Marilyn Samkus, Luna Fejer and Aurelian Fejer and Isaac Smerker. John is also survived by his daughter Cassandra Pullo and granddaughter Aliyah Pullo. He is survived by one sister, Judith Gurney.
In lieu of flowers donations may be made to the Dahl Children Education Fund at First Bank in Vass, NC.
Fry & Prickett Funeral Home is serving the Dahl family.
Online condolences may be made at www.PinesFunerals.com.
Tribute Video
Memories Timeline
Guestbook
Sign the Guestbook, Light a Candle