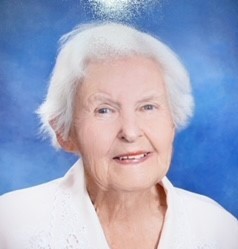 October 24, 1921 ~ January 12, 2022
Lena Lamar Spencer Verch, 100, of Rock Hill, SC passed peacefully into the presence of
God on Wednesday morning, January 12th, 2022.  A beloved daughter, wife, mother,
grandmother, and great-grandmother, Lamar was adored by all and lived a life truly blessed
by family and friends.  She was born to the late Colin G. Spencer, Sr. and Lena Fowler Spencer, of Carthage, NC,
and was a sibling of 2 brothers and 2 sisters, who have preceded her to heaven.
From a young age, Lamar was an outstanding athlete.  She loved tennis, basketball and golf
and had teenage frustration that her mother wouldn´t allow her to play tennis on Sundays!
Lamar was incredibly close with her parents and brothers and sisters.  Her father would take
her to NC State basketball games, where she was allowed to sit on the very front row.
By college though, her team devotion turned to Carolina and the fun of dances there.
She completed her education with a Bachelor´s of Home Economics at her beloved
Greensboro College – and maintained friendships from that time until her 90´s.
During WWII, she met and fell in love with a handsome soldier – Stuart Selden Verch – a
Yankee, no less.  They married in July of 1943, which started a union of 67 years until
Stuart´s passing in 2010. Together they had 5 children – Stuart, Nancy, Alan, Lynn and Bill.
The family lived in Slingerlands, NY until 1962 when they moved to Charlotte. Then in 2007
they moved to Rock Hill to live with their daughter, Lynn.  Lamar & Stu were strong believers
in higher education, and one of their proudest accomplishments was that they had at least
one child in college every year from 1963 until 1980.  As the years went on, there were to be
8 beautiful grandchildren and 16 great-grandchildren.
Lamar had many successful career pursuits including teaching multiple subjects, with her
favorite being Physical Education.  She spent time as a recruiter with a staffing agency.  She
and Stu also ran a local advertising newspaper and
managed an antique mart.  Lamar loved buying and selling antiques and she had a
remarkable gift for sales.  She would make you want to buy from her – at her price!
Lamar´s greatest passion was her faith in Jesus Christ as her savior.  She did an amazing
amount of volunteer work through Grace United Methodist Church in Charlotte.   She
became a devoted member of Woodland United Methodist Church upon moving to Rock Hill
in 2007.  She loved music and family and delighted everyone who came to know her.
She is survived by her sons and daughters, Stuart Selden Verch II and wife, Sandra Stutts
Verch of Odenton, Maryland; Nancy Verch Walker Traywick and husband, James D.
Traywick of Cope, SC;  Alan Hale Verch of Panama City Beach, FL; Lynn Verch Hathcock of
Rock Hill, SC; and William McCall Verch and wife, Melisa Jordan Verch of Matthews, NC;
along with her 8 grandchildren and 16 great-granchildren.
There will be a Celebration Service of her life on Friday, January 14 at 1 pm at Woodland
United Methodist Church.
Lamar will be interred at Cross Hill Cemetery in Carthage, NC with a private graveside
service on Saturday, January 15th.
Memorials may be sent to Woodland United Methodist Church,  801 Cherry Rd, Rock Hill,
SC 29732.
Fry & Prickett Funeral Home is serving the Verch Family.
Condolences may be left online at www.pinesfunerals.com
Memories Timeline
Guestbook
Sign the Guestbook, Light a Candle