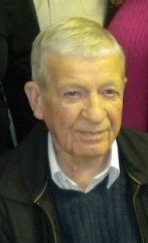 July 3, 1933 ~ January 9, 2016
Malcolm "Mac" Mills, 82, of Southern Pines NC, passed away peacefully at his home surrounded by his family and loved ones on January 9, 2016.
A memorial service will be held Thursday, January 14, at 2:00 pm, at Pinehurst United Methodist Church, 4111 Airport Road, Pinehurst NC 28374, officiated by the Reverend David Beam. The family will receive friends in the narthex of the church following the service and other times at the home. Burial will be private at Pinelawn Memorial Park in Southern Pines NC.
Born July 3, 1933 in Pitt County to the late Elvin and Louise Meeks Mills. Mac was a US Army veteran and served in the Korean War. He worked with Reynolds Tobacco Company and in car sales before settling into the restaurant business for the remainder of his career.
A long-time resident of Southern Pines, Mac was a member of Pinehurst United Methodist Church. His hobbies included cooking, working, reading, fishing, Fox News, politics, and eating eastern North Carolina barbeque.
He is survived by his wife of 59 years, Angelia "Ann" Avery Mills; his son Malcolm (Ann) Mills of Southern Pines NC; his daughters Angie (Andy) Scherer of Carthage NC, Becky (Clayton) Myrick of West End NC, and Dawn (Marshall) Williamson of Wilmington NC; his sister, Cornelia Murphrey of Farmville NC; his brothers, Henry Mills of Farmville NC and Wade (May)Mills of Beaufort NC; his eight cherished granddaughters, Erin Engle (Jason), Janna Nall (Mark), Jami Scherer, Laurin Mills (Jeremy Wolbeck), Brittany Williamson, Kirsti Williamson, Avery Myrick, and Liza Myrick; and his seven great-grandchildren, Emma Engle, Elijah Engle, Lydia Engle, Blane Mills, Sawyer Wolbeck, Haylee Nall, and Matthew Nall.
The Mills family would like to express their sincere thanks to the following people who, so kindly helped them through FirstHealth Hospice: Carol McWilliams, RN, Janice Brown, CNA, Robin Patterson, LCSW and Gerald Nelson, Hospice Chaplain.
Memorials may be made to FirstHealth Hospice, 150 Applecross Road, Pinehurst NC 28374.
Powell Funeral Home and Crematory of Southern Pines is assisting the family.
Online condolences are available at PinesFunerals.com.
Tribute Video
Memories Timeline
Guestbook
Sign the Guestbook, Light a Candle