Manuel Benjume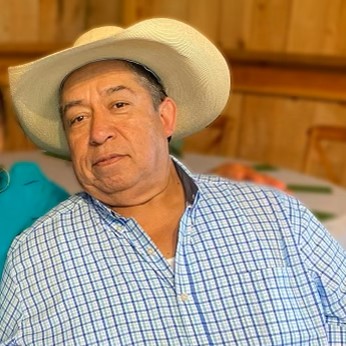 May 28, 1964 ~ June 18, 2023
El 18 de junio, Manuel Benjume de Robbins, Carolina del Norte, de 59 años, falleció pacíficamente, dejando un profundo sentimiento de pérdida al despedir a un esposo, padre y abuelo querido. Manuel, un valiente inmigrante de México, eligió Robbins, Carolina del Norte, como su hogar hace más de tres décadas. Con una fe inquebrantable, desempeñó un papel fundamental en el establecimiento de la primera misión católica en español de la ciudad.
La devoción de Manuel a Dios se evidenciaba en sus acciones y en el amor que compartía con los demás. Junto a su pasión por su familia, su granja y el cultivo de plantas, encontraba gran alegría al brindar servicios de catering para diversos eventos.
Manuel es sobrevivido por su amada esposa de 40 años, Socorro Benjume, sus cuatro hijos, cinco nietos y una red de amigos y familiares llenos de amor. Sus hijos y sus respectivas parejas son Carlos y Adela, Maria y Florencio, Victor y Nick, e Ivan; nietos: Gissel Alexi Benjume, Alec Enrique Benjume, Aldo Mateo Orihuela, Adriel Marco Orihuela, Ari Manuel Orihuela.
On June 18, 2023 Manuel Benjume of Robbins, NC, age 59, peacefully passed away, leaving a profound sense of loss as we bid farewell to a cherished husband, father, and grandfather. Manuel, a brave immigrant from Mexico, chose Robbins, NC, as his home over three decades ago. With unwavering faith, he played a pivotal role in establishing the town's first Spanish Catholic missionary.
Manuel's devotion to God was evident in his actions and the love he shared with others. Alongside his passion for his family, farm, and cultivating plants, he took great joy in providing catering services for various events.
Survived by his beloved spouse of 40 years, Socorro Benjume, their four children, five grandchildren, and a network of loving friends and relatives, Manuel's legacy lives on. His children and their respective spouses include Carlos and Adela, Maria and Florencio, Victor and Nick, and Ivan; grandchildren: Gissel Alexi Benjume, Alec Enrique Benjume, Aldo Mateo Orihuela, Adriel Marco Orihuela, Ari Manuel Orihuela.
Funeral Mass will be noon, June 22, 2023 at San Juan Diego Catholic Church.  Followed by burial at Pine  Rest Cemetery.
The family will receive friends from 6 to 8 PM, Wednesday, June 21, 2023 at Kennedy Funeral Home and from 9 to 11 AM, June 22, 2023 at his home, 2009 Needham Grove Road, Robbins, NC.
Kennedy Funeral Home is serving the Benjume family.
Condolences on line at pinesfunerals.com
Memories Timeline
Guestbook
---