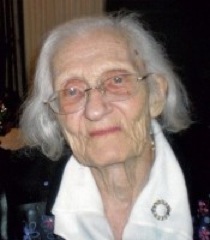 May 12, 1918 ~ November 14, 2013
Pinehurst NC
Marie Amalia Koch, age 95, died Thursday November 14, 2013 at the Hospice House of First Health of the Carolinas in Pinehurst, North Carolina.
A Mass of Christian Burial will be celebrated on Saturday, November 23, 2013 at 11:00 am at St. Joseph of the Pines Knollwood Chapel located on 592 Central Drive in Southern Pines.
Born in Port Richmond on Staten Island, New York on May 12, 1918, she was the beloved daughter of Theodore and Wilhelmina nee Guenthoer Koch and younger sister to Fredrick August Koch. After attending St. Peter's Catholic High School,she graduated from Notre Dame College in 1938 (affiliate of Fordham University) in the new college's first class of social workers.
In the 1940s'50s, she worked in family outreach throughout Brooklyn for Angel Guardian Home, a Catholic orphanage. In 1952, she traveled alone throughout post'war Europe for an extended study of church history and architecture and visited with family in Germany. She returned to social work in New York and did post-graduate studies at Fordham University.
In 1962, Marie joined the Benedictine Monastery of Regina Laudis in Bethlehem,Connecticut and spent ten years known as Sister Andrew, O.S.B, in contemplative prayer for the families and world she had served.
In the 1970s, she left the cloister and continued her vocation at Colgate University as resident director of Chapel House from which she traveled around the world in study of the Great Religions in Sri Lanka, Calcutta, China, and Russia.
Marie retired in 1990 and move to Southern Pines, North Carolina in 1992 to be family support to her brother, a priest of the Catholic Diocese of Raleigh, Monsignor Fredrick Koch. Following his death in 1999, she spent the next ten years in volunteer service to Moore Regional Hospital, Hospice of Moore County, Sandhills Coalition for Human Care, the Southern Pines Public Library, and various church interfaith activities. She was a resident of St. Joseph of the Pines at Knollwood, the Coventry, Zeno Villa, and the SJP Health Center.
Marie was grateful to God for her life and appreciated the many people who enriched her days by friendship or shared human service and study.
Her faith in God sustained her in the frailty of final years; she remained Sr. Andrew in her Benedictine vows to praise God in daily work and prayer. She was known simply as Marie whose goodness and kindness will be dearly missed.
Memories Timeline
Guestbook
Sign the Guestbook, Light a Candle