Martin Slominski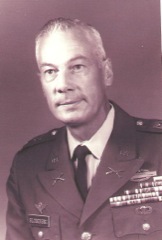 Colonel Martin John Slominski, United States Army Retired, died at home on February 7, 2010. Born May 11, 1922, he was the oldest son of Martin Joseph Slominski of Chicago, IL and Barbara Waytashek of Pierz, MN.
Colonel Slominski served with the United States Army for more than 37 years. He was ordered to active duty at Buffalo, NY on 16 Sep 1940 and retired at Fort Bragg, NC on 31 Jan 1978. As a combat infantry officer he participated in six battle campaigns in North Africa and Italy and five battle campaigns in Vietnam. He served in Great Britain, Algeria, Tunisia, Italy, Germany, Korea, Vietnam and Iran. While on temporary duty as a diplomatic courier with the Department of State, his duties took him to 17 other countries.
Martin married Maggie Adele Gould of Onslow County on 19 Jun 1948. They had five children: Dr. Martin W. Slominski living in Lewisville, NC, Mrs. Dolores Charbonnet in Danville, CA, Mrs. Natalie Tempe Brown in Warm Springs, VA, Mr. Gregory Slominski in Lynchburg, VA and Lt. Col. Mark Slominski at Mountain Home, ID. They have ten grandchildren.
Internment will be at Arlington National Cemetery.

Memories Timeline
---