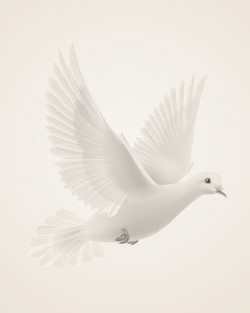 Muriel Emma Baumann Kinsman
Muriel 'Miff' Emma Baumann Kinsman, 93, of Quail Haven Village Inn, Pinehurst, North Carolina, formerly of Whispering Pines, North Carolina, passed away on January 1st, 2011.
Mrs. Kinsman was born in Oceanside, New York on December 14th, 1917. She was the fifth of seven children born to Emma Koehler and Harry H. Baumann. Mrs. Kinsman graduated from Oceanside High School in 1936 and began a career as a private secretary.
Muriel married Leonard Ford Kinsman on June 17, 1939. In May of 1940, their eldest, Karen Lois was born. In 1948 the family was transferred to Grand Rapids, Michigan.
In Grand Rapids, Muriel became a Girl Scout Leader and member of the Kent County Girl Scout Council. Ten years later, she helped her troop fulfill their goal of taking a weeklong chartered bus trip to a campsite on Long Island and a sightseeing trip to New York City.
The family welcomed their eldest son, Stephen Leonard, in February of 1957. The following year, the Kinsman's returned to their Long Island hometown of Oceanside. In addition to her homemaker duties she became actively engaged in Girl Scouting, the Parent Teacher Association, their church and schools, and all aspects of community life.
Throughout the ensuing years, Mrs. Kinsman - a true motivator of people - established a harmonious working relationship with school administrators and other community leaders. Her dedication and efforts were centered on the educational welfare of all children.
Their youngest child, Douglas Ford, was born in February of 1962.
In 1969, after two years of research, Mrs. Kinsman led in enlightening her community as to the dangers of drug abuse that was threatening the community youth. Through her devotion, the Oceanside Narcotics Council and Oceanside Counseling Center were formed and nurtured.
The Kinsman family moved to Whispering Pines, North Carolina upon Mr. Kinsman's retirement in 1979. They remained there until 2000 when they became residents of Quail Haven Village in Pinehurst, North Carolina.
Mr. Kinsman passed away just 5 days short of their 65th wedding anniversary. Mrs. Kinsman remained an active resident of Quail Haven Village, Brownson Memorial Presbyterian Church of Southern Pines and a participant of the Bread for the Journey Service at Quail Haven Village.
Mrs. Kinsman's many years of dedicated service were rewarded by:
New York State Parent Teacher Association Lifetime Award
National Parent Teacher Association Lifetime Award
'Citizen of the Year' Oceanside Board of Trade and Testimonial Dinner
'Good Guy Award' Oceanside Kiwanas
Selected Marshall of 1973 Memorial Day Parade
Recognized by the Oceanside Community Recreation Department for 10 years of dedicated service to the Community Drug Council
President of the Churchwomen of Rockville Centre Holy Trinity Lutheran Church
Mrs. Kinsman is survived by her children; daughter Karen Lois Kinsman Kearns, her husband Martin J. Kearns of Baton Rouge, Louisiana; son Dr. Stephen L. Kinsman, his wife Barbara Ann Beran Kinsman of Charleston, South Carolina; son Douglas Ford Kinsman, his wife Deborah McGugan Kinsman of Whispering Pines, North Carolina; six grandchildren and one great-grandson.
Proceeding Mrs. Kinsman in death are her husband, Leonard Ford Kinsman; her two sisters; and her four brothers.
A private family gathering in memory of Mrs. Kinsman will be held at a later date in her hometown of Oceanside, New York where she spent her youth, early married life, and many years before retirement.
Memorials may be made to Brownson Memorial Presbyterian Church, 330 South May Street, Southern Pines, North Carolina 28387.
Memories Timeline
Sign the Guestbook, Light a Candle