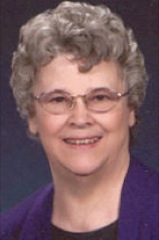 Walla Walla, WA
Nina Norris Cowan Turple Riley, age 76 died Sunday at Walla Walla General Hospital.
Funeral Services were held Thursday (November 30, 2006) at the Village Seventh-day Adventist Church in Walla Walla. Burial Followed at Mount Hope Cemetery in College Place.
Born in Waterloo, IO to the late Glen and Lena Mae Balmer Norris. She grew up and graduated high school in Durango, CO. Nina was married to David Arthur Cowan from October 21, 1946 until he passed away June 1, 1981. In 1957 they moved from Durango Colorado to Norwalk California and raised their children there. Cooking, music and entertaining were her favorite things to do. She enjoyed singing around the piano with her family. She and David sponsored many youth parties with lots of food, fun, and music. She cherished her memories of the guitars, accordion, piano, and a lot of kids who loved to sing. At the time of her death, family gathered in her hospital room. Her two granddaughters recreated the atmosphere she so enjoyed. Holding her hands, they led the family in singing her favorite hymns. Her acknowledgement was recognized by a tight grip on their hands expressing her appreciation.
She spent twelve happy years with Charles Turpel from June 27, 1982 until he passed away July 1, 1994. She enjoyed a special relationship with his grown children and their spouses.
In May 1995 she moved to Walla Walla to be near her daughter and family. She met fellow Golden West Estates resident Roy Elmer Riley at community gatherings at the park. On June 6, 2003 she and Roy were married at a friends home in Walla Walla, and have enjoyed their lives together for the past 3 ½ years.
During this last year, with failing health, she expressed her desire to attend two family reunions and to have a five-generation picture made. Roy loved to do anything he could to make her wishes happen. In June last year they attended a reunion in New Bern, North Carolina with 40 members of her family including children, grandchildren and great grandchildren. In September they attended a family reunion with her siblings in Salt Lake City, Utah. Though miles and circumstances kept all five generations from getting together, her daughter compiled a five-generation picture for her enjoyment.

She and Roy loved caring for each other and so wanted to do that until death parted them. They and their family are so thankful for the Eagle Meadows Assisted Living in College Place, where she and Roy resided the last five weeks. Not only were they able to be together but were also blessed by a loving and caring staff.
In addition to her two husbands she was preceded in death by: brothers Reilgh and Jerry Norris and a grandson Sherman Herrington.
Survivors include: her Husband Roy Riley; daughters Marlene Cowan Nunnaley of Candler; Maxine Brookins and husband Bud of College Place, WA, Marilyn Heller and husband Lauren of Lake Havasu City, AZ and Marcella Harrington and husband Jeff of Commerce, GA; son Mickey Cowan and wife Linda of Haines, OR; stepdaughter Jane Sutter of Flagstaff, AZ; stepsons Roy Riley, Jr. of Spokane, Paul Turple of Loma Linda, CA and Allan Turple of Dewey, AZ; sisters Bernadine Leyshon and Ellen McCasland both of Denver, CO and Betty Lafferty of Mesa, AZ; brother Kenneth Norris of Salt Lake City, UT grandchildren Rob, Jim, Jonathan, Tom and Daniel Nunnaley, Rebekah N. Alley; Joe, Bud, Kynda and Crystal Brookins; Tim and Tammy Heller; Sherm and Jared Herrington, Talitha Darling; Carolee Ralston, Michael and Trina Cowan; great-grandchildren Venson, Amber, Lilly, Jessica, Cole, Megan, Jordan, Andrew, Wyatt, Colby, Kylie, Faylynn, Kaytlin, Hunter, Michael, Kelsea, Christopher, Nathan, Ashley, Autumn, Ashley, Aimee, Anthony, Ayden; great-great-grandchild Noah.
Memorials can be made to: Blue Mountain Television c/o College Place Seventh-Day Adventist Church 715 SE Larch College Place, WA 99324.
Memories Timeline
Sign the Guestbook, Light a Candle