Oscar L. Shoenfelt, Jr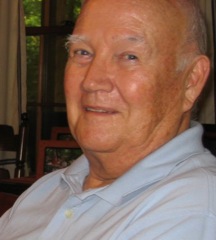 Oscar L. Shoenfelt, Jr., 82, a resident of Pawley's Island, SC and Montreat, NC died Sunday, January 25, 2009 surrounded by his four grown children.
Oscar, the son of the late Oscar L. Shoenfelt, Sr. and Sadie McDonald Shoenfelt, was born in Mt. Vernon, NY on January 21, 1927. He served in the U.S. Navy as an aerial gunner in World War II. Oscar graduated from Wofford College, Spartanburg, SC, where he joined SAE fraternity, played football, ran track, and wrote a weekly sports column, "Sporting Around with Oscar Shoenfelt." He attended graduate school at the University of North Carolina, Chapel Hill, where he met his wife of 54 years, Elizabeth Currie Shoenfelt. Oscar worked for 37 years for the Equitable Life Assurance Association in New York, NY, Atlanta, GA, Shreveport, LA, New Orleans, LA, Richmond, VA, and Charlotte, NC. He and Elizabeth retired to Montreat, NC in 1997. In addition, the Shoenfelt family has maintained a home on Pawley's Island, SC since the early 1930s where Oscar enjoyed spending time.
Oscar was a talented artist and recently had a gallery exhibit in Montreat, NC featuring his oil paintings and pottery. Oscar's artwork was best represented by his ceramic fish that were true to nature and have appeared in galleries in North Carolina and South Carolina. Oscar, a lifetime learner, regularly completed self-study courses in World and American History. Oscar appreciated all genres of music and particularly enjoyed live performances of opera or folk music. An avid sports fan, he followed UNC, Wofford, and LSU. Oscar was the founder and Chair of the Montreat German Society and regularly hosted a stamtisch for members. He was a member of the Montreat Men's Golf Association. Oscar will be remembered for his joie de vrie, his passion for knowledge, and his strong Christian faith. He leaves a host of friends and loved ones.
Oscar was preceded in death by his wife, Elizabeth. He is survived by their four children and eight grandchildren: Oscar L. Shoenfelt, III of Baton Rouge, LA and his children Katie, Oscar IV, Mimi, and Sally; Dr. Elizabeth L. Shoenfelt of Bowling Green, KY; Sally Shoenfelt Miller and her husband Bob Miller of Charlotte, NC and their children Molly, Meredith, and Bobby; and John Currie Shoenfelt and his wife Alison of Durham, NC and their daughter, Sadie.
The funeral service for Mr. Shoenfelt, a member of the Presbyterian Church, USA, will be 2 pm Thursday at the Carthage, NC Presbyterian Church, where he and his wife, Elizabeth, were married. The Reverend Doctor Tom Currie will officiate. Prior to the service, the family will receive visitors in the church fellowship hall beginning at 1pm. Burial will be in the family plot at Cross Hill Cemetery in Carthage. In lieu of flowers, the family requests that memorial gifts be made to the Oscar L. Shoenfelt, Jr. and Elizabeth Currie Shoenfelt Endowment of the Montreat Conference Center, Montreat, NC 28757.

Memories Timeline
Guestbook
---