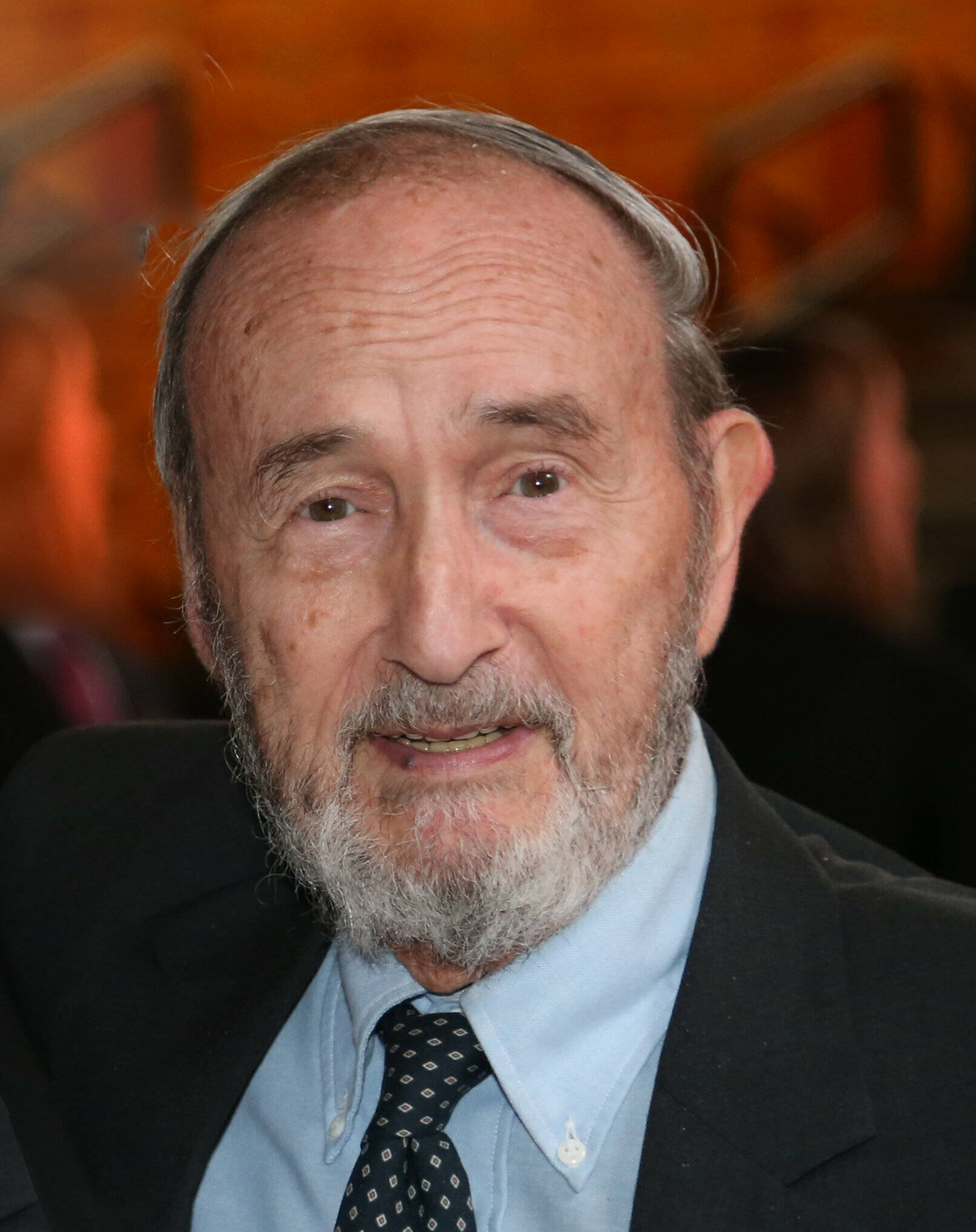 January 15, 1928 ~ October 26, 2021
Ralph Jacobson, 93, passed peacefully on October 26, 2021, at his home in Pinehurst, North Carolina.  
Ralph, a Holocaust survivor, was born on January 15, 1928, in Osnabrück, Germany to Ernst and Greta Jacobson. Ralph was the beloved husband of Vivian for 64 years, devoted father to Ernest and Daniel (Diane Pecaric-Jacobson), and grandfather to Nathaniel and Nica Jacobson.  
Before emigrating to New York, Ralph witnessed the Nazi rise to power, Kristallnacht and the death of his father Ernst Jacobson at the hand of the Nazis in 1938. Ralph arrived in the United States in January 1939, with his mother and $50.00. As an immigrant child Ralph learned to speak English and was determined to speak perfectly with no German accent.  Even while working part time through 1949, he excelled in school receiving a bachelor's degree from City College of New York in 1949 in accounting and a law degree from New York University in 1953.   
Soon after graduating law school and passing the New York bar exam Ralph entered the US Army in March 1953 where he was stationed stateside in Chicago.  After discharge, Ralph continued to serve as a civilian for the Army Audit Agency.  While taking the Illinois bar exam in 1956, Ralph was set up by a fellow examinee on a blind date with Vivian Bassett.  In one short year, Ralph passed the exam and on February 17, 1957, he married Vivian. 
     The young couple was blessed with two sons, Ernest, born in 1958 and Daniel in 1960.  Ralph was a devoted father who enjoyed spending time with his family, rarely traveling on business and almost never late for supper.  Ralph supported Vivian's goals and activities and aquatics instruction, travel, politics, and volunteer work and her interest in the life and works of the artist Marc Chagall.
In May 1958, Ralph started his career as a tax lawyer for Sears, Roebuck and Co., in Chicago, and eventually was promoted to senior corporate attorney specializing in taxation, real estate and foundation law.  During this period of his career, he also had an individual practice, helping his clients with tax, estate, trust, wills, probate, and real estate law.  While at Sears, he joined the Chicago Tax Club, a professional organization of corporate tax lawyers and accountants.  He was a mentor to many young attorneys and CPAs.
Ralph retired from Sears in 1990, and moved with Vivian to Pinehurst, North Carolina.  Ralph immediately loved his new home playing golf, establishing friendships, and bringing his expertise and pursuit of justice as a lawyer, counselor, and advisor to the community.  In this pursuit, he passed the North Carolina bar in 1992.  He practiced exclusively on a pro bono basis.  He advised numerous organizations and individuals.  
His activities included support of tax-exempt non-profit organizations, prisoners, business groups, and the Lumbee Tribe.  Among the organizations that Ralph helped were the following:   The Village Chapel, The Carolina Philharmonic, Friends of the Library System of Moore County, The Sandhills Jewish Congregation, the Moore Parks Foundation, and the Seagrove Pottery Association. 
Ralph represented, without charge, disabled veterans, public school teachers, senior citizens with cognitive issues, counseled the Moore Free Clinic Foundation, and the North American Indian Group. 
He was an advisor for SCORE (Service Corps of Retired Executives) for 20 years, the longest serving member of the local chapter.  For 10 years, he was the chapter's Treasurer or Secretary holding both offices for many years simultaneously.  
For his love of children and their need for recreation, Ralph served on the Moore Parks Foundation board since its creation. He was one of three incorporators and served as its Vice – Chairman and attorney since the Foundation's inception.  The Foundation raised major funds and played a material part in the creation and construction of Hillcrest Park, a facility with four lighted baseball fields, a field house, etc. on more than 45 acres.  The Dixie World series has held at Hillcrest Park in 2011.  Fulfilling Ralph's love of music, he served on the music committee at the Weymouth Center for the Arts and Humanities for over 20 years.  He was an avid supporter for the Sunrise Theater in Southern Pines which brought the Metropolitan Opera of New York, The Bolshoi Ballet and theater from London, England. 
Volunteer counseling for many years, at the McCain Prison Center, was also a source of great accomplishment for Ralph.  He was part of a small team speaking to prisoners who were about to be released after serving their sentences.  The main thrust of the lectures was jobs, housing and education and advice about "going straight" and not returning to prison.  His wife, Vivian, remembers the day when Ralph came home to share with her about how he gave a talk to the prisoners on his life in Nazi Germany as a young child.  The prisoners, all 22, gave Ralph a standing ovation. 
     In 2012, Ralph received the Janet A. Powell award from the Moore County Chamber of Commerce for his dedicated volunteer work. 
For 25 years, Ralph lectured in the Moore County public and private schools and statewide to civic and religious organizations, colleges, and universities on the Holocaust and his years in Germany from 1933 to 1939.  He spoke about forgiveness and friendships, but never forgetting the atrocities and terror of the Nazi regime.  His presentations were also given in Arizona and Tennessee and included invitations of the officials of Osnabrück, the city where he was born.  
In 2002, Ralph lectured to 250 people at the courthouse of Osnabrück.  In the very same room in the very same courthouse where in 1933 Ralph's father, Ernst Jacobson, was denied from practicing law because of his Jewish faith.  There was not a dry eye in the room when Ralph told his story.  He shared his stories with thousands of people in twenty-five years.  He received many letters of gratitude.  The young people wrote very often how this lecture changed their lives:  they would work harder in school, help their parents more at home and be kinder to their siblings and friends. 
The Jacobson Family has funded scholarship programs at the Sandhills Community College, Pinehurst, NC. and the University of North Carolina at Pembroke, NC, a special fund was established at the community college in Holocaust and World War II studies.  
Aside from his accomplishments, Ralph had many interests. He loved to play sports as a child and as an adult.  He had an encyclopedic knowledge of spectator sports.  He especially loved the New York Giants and could regale you with stories of the Polo Grounds, or boxing matches in Brooklyn.  His sense of justice spilled into his opinions on professional sport coaching decisions and referee officiating.  He loved to watch and talk about sports with his sons and grandson. Ralph enjoyed crossword puzzles as well as dabbling in the stock market.  He loved to share jokes, rhymes, and puns. He loved to watch and talk about sports with his sons and grandson. 
A public memorial service will be held on Monday, November 29th 2021 at 3:00 PM at the Sandhills Community College, Bradshaw Performing Arts Center.  Reception to follow. 
The Jacobson Family has requested that in lieu of flowers, donations can be made to the following organizations:
Temple Beth Shalom – Religious Education Fund
      PO Box 2121, Pinehurst, NC  28370 
Sandhills Community College Foundation – Jacobson Fund
    3395 Airport Road, Pinehurst, NC 28374 
     University of North Carolina at Pembroke
      UNCP Foundation – Jacobson Collection
    PO Box 1510, Pembroke, NC 28372
    or online at www.uncp.edu/give/chagall 
May the memory of Ralph Jacobson be a blessing forever. 
Services
Add to My Calendar
America/New_York
2021-10-31 15:00:00
2021-10-31 15:00:00
Ralph Jacobson Private Service
Private Service
1105 Morganton Road,Southern Pines, NC 28387
Memorial Service: November 29, 2021 3:00 pm
Sandhills Community College, Bradshaw Performing Arts Center
3395 Airport Road,
Pinehurst, NC 28374
910.692.6185

Add to My Calendar
America/New_York
2021-11-29 15:00:00
2021-11-29 15:00:00
Ralph Jacobson Memorial Service
Memorial Service
3395 Airport Road,,Pinehurst, NC 28374
Memories Timeline
Guestbook
Sign the Guestbook, Light a Candle