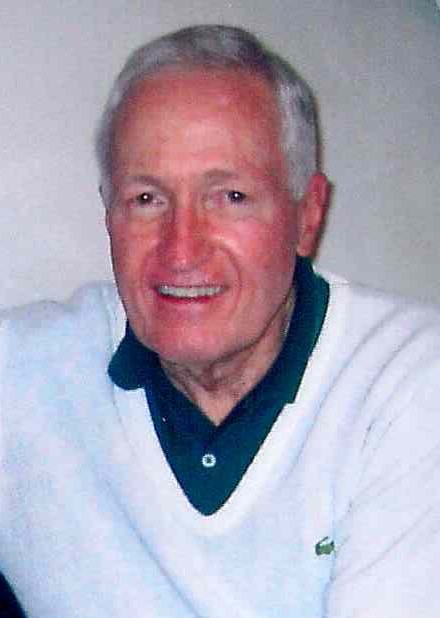 January 6, 1932 ~ February 16, 2020
R. Claiborne Morris passed away peacefully at home in the early morning of February 16th, 2020 with his wife of 61 years, Mary Jo, by his side.
A celebration of Clay's life will be held at Emmanuel Episcopal Church in Southern Pines, on March 1st, at 1:30 p.m., with the Reverend John G. Talk, IV officiating.  A reception following the service will be held in the Parish Hall.
Clay was born on Jan. 6, 1932, in Memphis, Tennessee, to Kathleen Soden and William Telson Morris, where he and his older brother, Bill lived until the death of their father in 1940.  The family moved to Miami, and Clay attended the Coburn Country Day School, where he developed his love of sailing. He attended Riverside Military Academy, from 1946-1950. He attended Johns Hopkins University 1950-1954, where he was a member of the Kappa Alpha Order and graduated with a B.S. in Business. Clay served in the U.S. Army from 1954-56 in the 82nd Airborne Division at Ft. Bragg. He was very proud of his service, and among his memorabilia were his swagger stick, the manifests from his jumpmaster drops and the log of his 17 jumps.
After resigning his commission as a first lieutenant in the Army, he joined Francis I. duPont & Co. as a stock broker and was assigned to the Washington, D.C. office, until he resigned in 1966 to manage his own investments.  
Clay created Allegheny Properties, Inc. to develop recreational land in the mountains of West Virginia.  His most extensive development was Timberline, in the Canaan Valley.  
In June, 1958, Clay and Mary Jo met and one Saturday, they picnicked aboard Clay's racing Mobjack.  After capsizing in the Potomac River, working together to clean up the boat and themselves, they began dating.  They were engaged in September and married on October 11, 1958. 
Their first home was in Alexandria, Va.  After the births of their three children, they built a home on Clewerwall Drive, across from the Congressional Country Club in Bethesda, Md., where Clay was a member for many years.
In 1964, Clay and Bill began golfing trips to Pinehurst twice a year, bought a house and joined the Pinehurst Country Club.  They were joined by close friends Allen Rushton and Fred Winseck every year until Bill's death in 2008.
Clay was preceded in death by his parents, Kathleen Soden and William Telson Morris,  his stepfather Thomas W. Briggs, his brother, William T. Morris, Jr., and Bill's son, Gregory W. Morris.  He is survived by his wife, Mary Jo, daughter,Kathleen Allison Morris, son, Robert C. Morris, Jr., and daughter, Pamela Ann Shaughnessy and by granddaughters, Caroline, Mary Claire, Chandler, and Madeleine, grandsons, Max and R. Claiborne, III, and 3 great granddaughters.  Clay is also survived by his nephews, Bill and Dave, Greg's widow, Michele, and their families. 
As a young man, Clay enjoyed flying, motorcycling, day trading, poker, swimming, sailing and tennis.  He left most of that behind when he discovered golf and skiing. Clay's favorite courses were CCNC's Dogwood course and Pinehurst #2.   Vail was his second home and his favorite runs were Vail's bowls, Prima Pronto and Roger's Run.
Clay and Mary Jo became members of The Country Club of N.C. in 1985 and upon completion of their new home in 1987, moved to CCNC, where they have lived happily ever since.  When osteoarthritis in Clay's hands forced him to put away his clubs and skis, he accepted that loss by saying golf and skiing owed him nothing.  Clay began every day in Pinehurst by saying that it was a beautiful day for golf or a good day to stay home. And news of fresh powder in Vail brought back wonderful memories.
As dementia compromised Clay's mental and physical strength, his world began to shrink, and he welcomed visits and calls from his children.   Clay's dogs were a great source of entertainment, and he thoroughly enjoyed identifying and feeding his resident and migratory birds. Clay never lost his sense of humor and met his challenges with courage and acceptance.
Clay was devoted to Flora Bullock, dear friend and housekeeper for over 20 years.  The family is blessed by the dedication of Flora and her family, Reaver "Thorton" Person for over 25 years of kindness and service, and the staff at CCNC, for their professionalism and support.   Dr. David Hipp extended Clay's years of good health and guided Mary Jo through the steep learning curve of becoming a caregiver. After a hospital stay, the staff at St. Joseph's memory unit stabilized Clay's health, and he returned home.  Aging Outreach Services made that transition smooth, safe and comfortable. First Health Hospice and Victor L. Blue made it possible for Clay to remain at home under their care.
In lieu of flowers, memorials may be made to the Moore County Sheriff's Department/Animal Services/ Dog Tags Program, P.O. Box 40, Carthage, N.C., 28327; The Patriot Foundation, P.O. Box 5069, Pinehurst, N.C., 28374; or the CCNC Foundation, Inc., P.O. Box 786, Pinehurst, N.C., 28374. 
Services entrusted to Powell Funeral Home. 
An online register is available at PinesFunerals.com.
Services
Add to My Calendar
America/New_York
2020-03-01 13:30:00
2020-03-01 13:30:00
Robert Claiborne Morris Memorial Service
Memorial Service
350 E Massachusetts,Southern Pines, NC 28387
Memories Timeline
Guestbook
Sign the Guestbook, Light a Candle