Robert J Hyman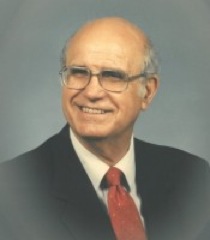 November 7, 1919 ~ August 23, 2011
CARTHAGE
ROBERT J 'Bob' HYMAN
Surrounded by his family Robert Joseph (Bob) Hyman, Sr. 91, passed away Tuesday August 23rd after a long illness. The son of the late William Donald and Hilda Early Hyman, he was preceded in death by his beloved wife of more than 58 years Lucile Harrington, two brothers: W.D. (Don), Jr. of Fayetteville and E.P. (Ed) of Carthage, as well as a sister, Rebecca (Becky) Cagle of Carthage.
A funeral service will be held at 2:00 PM on Friday (8/26/2011) at Carthage United Methodist Church with The Rev. Matthew Locklear, The Rev. Terry Bryant and The Rev. Chuck Plowman officiating. Burial will follow at Cross Hill Cemetery in Carthage.
The family will receive friends from 6:00-8:00 PM on Thursday (8/25/2011) at Fry and Prickett Funeral Home.

Born on November 7, 1919 in Wilson, NC Bob graduated from Oak City High School. Robert moved to Carthage to live with his sister and brother-in-law, Bob Cagle in 1937 where he met A¢a'¬EœCile. He worked with Bob & Becky in their laundry business in Carthage and for several years with TA Loving and Nello Teer in construction/heavy equipment operation at Fort Bragg and other military locations. He became quite ill while constructing the air strip at Cherry Point and spent several years recovering in Carthage and New Bern.

While recovering in Carthage he worked with Buffaloe Brothers Trucking Company which started a long career in the transportation industry. He spent 19 years with companies in Charleston, West Virginia including Ohio Southern Express, Eazor Express, & Point Express and held numerous positions including President of the Kanawha Valley Traffic Club. After leaving the Kanawha Valley he worked with Smith Transfer in Charlotte and Akers Motor Lines in Fayetteville.

In the early 1980s he was persuaded to join friends in a labor leasing company headquartered in Chicago, Ill. Bob hired truck drivers and managed labor relations with the Teamsters Union for clients of TLI and Top Transportation including General Foods in Dover, Delaware and Heil Quaker outside of Nashville, TN until his retirement in the early 2000s.

A longtime member of Carthage United Methodist Church, he chaired and served on many church committees including the Administrative Council and the Pastor-Parrish Relations Committee and was the long-time Finance Committee chairman and President of the United Methodist Men.

He is survived by a son, Robert J. (Bobby) Jr. & wife Tina of Carthage, a daughter Alice Ann Hyman of the home, a niece Hilda Cagle Morris & husband Bob of Carthage, nephews Parker Hyman & wife Becky of Whispering Pines, and Bill Hyman & wife Toni of Southern Pines, and the light of his life his two grandchildren Joseph and Andie Hyman of Carthage, as well as many other family members and friends.

Memorials can be made to the Carthage United Methodist Church or the charity of your choice.
Online condolences may be made at www.PinesFunerals.com.

Memories Timeline
Guestbook
---