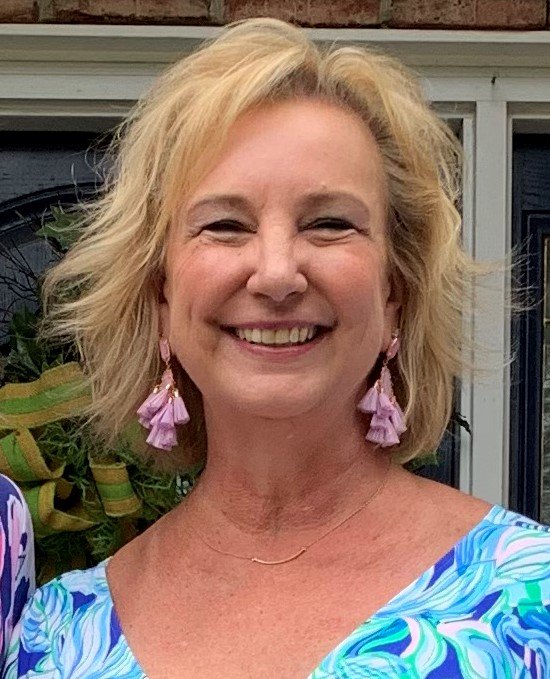 May 23, 1965 ~ November 8, 2019
ROSEMARIE HOPKINS COOPER
CELEBRATION OF LIFE STORY
MAY 23, 1965 TO NOVEMBER 8, 2019
Rosemarie Hopkins Cooper's presence brightened the souls of everyone blessed to know her, from her sweet demeanor to her angelic voice that touched the lives of all those fortunate enough to hear her sing. 
Rose graced the lives of country boy Dillard O. Hopkins and city girl Peggy Rose Hopkins—who met in their thirties in a dance studio—with her presence on May 23, 1965 in Sanford, NC. Raised as an only child in Cameron, NC, Rose grew up on Hopkins tobacco farm and learned how to operate the large farm with her father who was a fine farmer. Rose's grandparents, parents and her own family and children have called Cameron Presbyterian Church their home for generations now. There her childhood was framed by fond memories of Christmas programs, covered dish meals, playing the piano, youth events, and many wonderful families who were a great influence on her, and also where her musical gene first flourished, an amazing gift from Rose's mother (since passed down to daughter Summer). 
Rose attended Cameron Elementary and Union Pines High School where she played basketball throughout her youth—in another love introduced by her mom—and even played at Meredith College where she earned her Bachelor of Arts in Social Studies in 1987. High school found her also singing in the choir and participating in student government. You could always see her coming in her bright blue Camaro T-Top with silver seats. Rose was never understated!  
Her passions for children, students and teaching defined her career, where she touched thousands of lives, first as a teacher, and later in administration after earning her master's degree in School Administration at UNC Pembrooke. She loved her roles as assistant principal and principal, but her proudest accomplishment was opening and serving as Principal of Crain's Creek Middle School for five years, until retirement. Not one to idle long, Rose reemerged as an education consultant, training Special Forces soldiers how to teach at the JFKSWCS at Ft. Bragg, and adored working with her adult military students as well. As a breath of fresh air, Rose took Ft. Bragg by storm in a way you can only imagine when flamingos and camouflage intersect.
However, her life's greatest joy emerged within her own family, first baby Summer Dare Hennings from an early marriage to Howard Gray Hennings Jr, and then son Matthew Thomas Cooper, following her April 15, 1995 marriage to Colton Matthew Cooper from California. When Colton enlisted in the U.S. Army—with the initial goal of serving four years to purchase a new Harley Davidson and earn college tuition money—they met by sheer accident once he transferred to Ft. Bragg from Hawaii to the 82nd Airborne Division. The two spent twenty-plus years beautifully raising very active children, many times Rose on solo duty with Colton's responsibilities taking him away.
Colton and Rose shared a palpable bond and a similar zest for life. Once he finally got his Harley, he and Rose enjoyed rides to the mountains or the coast—Rose loved the beach. After Summer and Matthew graduated from college and launched careers in cities further south, the four nevertheless frequently connected, their enjoyment of one another obvious. Additionally, Rose and Colton savored Panthers football, entertaining, heading to the gym, listening to music, nights on the deck, watching fireflies, drinking wine, and their signature endearing swing dance that delighted friends and family.
Thoughtfulness and generosity marked Rose's life, as did her love of pets, her delicious cooking, her sense of style and her affinity for bright colors, "Everyone needs a little pop of color!" Rose bestowed others with her incredible voice in the choir, and by volunteering wherever needed—most recently in the Carthage Rotary and as chair of the CPC Pastor Nominating Committee. 
Over fifty years in Moore County resulted in hundreds of friends and acquaintances, all of whom will miss the radiant smile that lit Rose's face until her untimely passing due to sudden illness. She is survived by her loving husband Colton Cooper, her daughter Summer Hennings, her son Matthew Cooper, as well as an incredibly extended loving family. The world lost a special woman when Rosemarie Hopkins Cooper took her place in heaven on November 8, 2019.
Interment will be private, but all who loved Rose are invited to a Celebration of Life on Saturday, November 16 at 3:00 p.m. at Cameron Presbyterian Church and a visitation on Friday, November 15 from 5:00 to 8:00 p.m. at Fry & Prickett Funeral Home.
In lieu of flowers, contributions may be made to Cameron Presbyterian, Crain's Creek Middle School or Carthage Rotary. 
Services
:
Add to My Calendar
America/New_York
1970-01-01 00:00:00
1970-01-01 00:00:00
Rosemarie Cooper
Memories Timeline
Guestbook
Sign the Guestbook, Light a Candle