Ruth Tucker Speer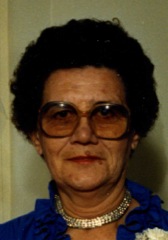 West End, NC
Ruth Tucker Speer, age 83, passed away Friday (October 31, 2008) at her home in West End.
Funeral services will be 3:00 PM Sunday at Emmanuel Baptist Church conducted by the Rev. Eugene Ussery and the Rev. Dana Brewer. Burial will follow at Cross Hill Cemetery.
A native of Stuart, VA, she was the daughter of the late Harrison Tucker and Mamie Collins Tucker. Most of her youth was lived in the Forsyth County area. After her marriage to David Speer they moved to Moore County where she spent her life as a loving mother, homemaker and farmers wife. She also worked at times in factory work.
She suffered and fought a good fight for a long time, torn between her world here with family and friends, and the other she hoped would reunite with her loved ones gone before.
She was preceded in death by her husband of 37 years David G. Speer, son John William "Pete" Speer, a grandson Robert "Rob" Speer three sisters Louise Vanhoy, Leola McIntosh and Lucy Whitaker; two brothers Carmine and William Tucker.
She is survived by daughters Rachel McDaniel and Betty Harper Thorpe both of West End; sons Jonah Ray Speer and wife Margie of Albemarle and Robert Speer of Carthage, two sisters, Althea Flowers of Florence, SC and Carol Edwards of High Point, NC, nine grandchildren, Kimberly Miller, Angela O'Dowd, Kay Rodriguez, Ben Spears, John Spears, Clay Harper, Carmenn Powers, Crystal Speer, Miranda Agnew; 20 great-grandchildren and two great-great-grandchildren.
The family will receive friends Saturday from 7:00 —8:30 PM at Fry and Prickett Funeral Home in Carthage and at other times at the residence.
Memorials may be made to: American Cancer Society, P.O. Box 22718, Oklahoma City, OK 73123-1718.
Condolences may be made at: www.FryAndPrickett.com.

Memories Timeline
---