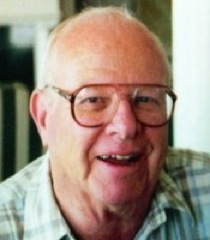 December 9, 1920 ~ May 21, 2010
Stuart Selden Verch, 89, of Charlotte and Rock Hill, SC, passed peacefully into the presence of God on Friday morning, May 21st, 2010. A devoted son, husband, father, grandfather and great- grandfather, 'Papa Verch' was dearly loved by all and enjoyed a full and active life. He was born to the late Helen McCall Verch and William Verch, on December 9th, 1920 in Albany, N.Y. He had one sister, Ruth Moran (deceased).
During his teens, Stu was among the first in this country to enjoy alpine skiing. He also piloted open-cockpit airplanes and developed his lifelong passion for golf.
Stu turned 21 just two days after Pearl Harbor and he soon joined the fight, serving in the U.S. Army and eventually becoming a first lieutenant. During WWII, Stu oversaw a radar unit in the West Coast defenses and was named head of the School for Bakers and Cooks at Camp Fanning, Texas. He saw combat action in the Philippines and the islands of Japan. In service to our country, he was injured in the line of duty by a phosphorus grenade explosion at Camp Fanning.
It was during his time in the service, that Stu - a staunch 'yankee' - met and fell in love with his beautiful southern wife - Lena Lamar Spencer of Carthage, NC. They were married in July of 1943, which started a union that has lasted for almost 67 years. Together they had 5 children - Stuart, Nancy, Alan, Lynn and Bill. The family lived in Slingerlands, NY until 1962 when they moved to Charlotte. Stu was a strong believer in higher education, and one of his proudest accomplishments was that he had at least one child in college every year from 1963 until 1980. As the years went on, there were to be 8 beautiful grandchildren and 7 great-grandchildren.
Stu's business passion was Commercial Real Estate, although he was also an inventor, a salesman and a business owner. Acquiring his Real Estate Broker's license at the age of 16, he eventually became the youngest president ever, of the Albany Board of Realtors. Stu brokered the sale of the Louden Arms which, at the time, was the largest commercial real estate transaction in the history of Albany, NY. He briefly taught Real Estate at Russell Sage College. In Charlotte, Stu specialized in large land transactions and franchise locations. His entrepreneurial drive was always strong and it led to his creative inventions: the 'Stop - Chas'n' Fence, the 'Bucket-o-Bridge' and the 'Paper Saver.'
Stu was a dedicated member of the United Methodist Church. In Slingerlands, he was Treasurer of the Community Methodist Church. Upon moving to Charlotte, Stu and Lamar became active members of Grace United Methodist Church on Woodlawn Rd. He loved music and singing and he warmly engaged all people.
Among 'Papa Verch's' famous ancestors were Nathan Hale (revolutionary heroic politician). Edward Everett Hale (philosopher), Henry Ward Beecher (preacher), and Harriet Stowe Beecher (author of 'Uncle Tom's Cabin').
He is survived by his wife, Lamar Spencer Verch of Rock Hill, SC;
His son, Stuart Selden Verch II and wife, Sandra Stutts Verch of Odenton, Maryland; grandchildren, Joshua Eric Verch of Tampa, FL and Stephanie Verch Kelley and husband Nathan James Kelley of Lexington, SC; great-grandchildren, Caroline Wray Kelley and Spencer Michael Kelley;
His daughter, Nancy Verch Walker Traywick and husband, James D. Traywick of Cope, SC; grandchildren, Dan 'Everett' Walker III of Mt. Pleasant, SC and Dr. Carla Walker Jorgensen and husband, Dr. Jesse Walker Jorgensen of Piedmont, SC.; great-grandchildren, Cullen Everett Jorgensen, Laken Walker Jorgensen, Sarah Arden Jorgensen and Anson Erik Jorgensen;
Grandchildren James 'Deaver' Traywick and wife, Margee Huseman Traywick of Black Hills, SD and Penina Traywick of Cope SC;
His son, Alan Hale Verch of Panama City Beach, FL and Cathy Curtis Verch of Columbia, SC; grandchild, Laura Garlington Verch of Charleston, SC;
His daughter, Lynn Verch Hathcock of Rock Hill, SC; grandchildren, Ira Jason Hallman of Clemson, SC and Stuart Justin Hallman and April Helms of Rock Hill, SC; great-grandchild, Collin Stuart Hallman;
His son, William McCall Verch and wife, Melisa Jordan Verch of Matthews, NC; grandchild Tiffany Christian Verch of Charlotte, NC.
Stu will be interred at Cross Hill Cemetery in Carthage, NC with a graveside service at 2 pm on Sunday, May 23rd.
Memorials may be sent to Grace United Methodist Church on Woodlawn Rd., Charlotte, NC.
Memories Timeline
Guestbook
Sign the Guestbook, Light a Candle