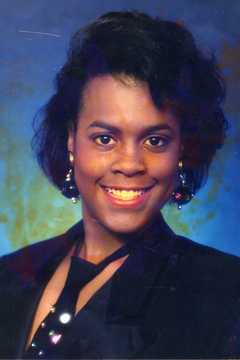 Technical Sergeant Melinda Ann Hargrove was a loving daughter, sister, cousin, aunt and friend. Melinda loved everyone and they loved her in return. Melinda dedicated her life to the Air Force and joined it at an early age. She has faithfully served her country for 20 years. She was due to retire from the Air Force this year.
A funeral service will be held at 2:00 pm on Saturday, April 23, 2016 at Carthage Elementary School. The family will receive friends from 6:00 - 8:00 pm on Friday, April 22, 2016 at Fry & Prickett Funeral Home in Carthage.
Melinda graduated from Pinecrest High School and then joined the Air Force. She attended church at the Air Force Base in Aurora, Maryland during the span of her career. She loved God and knew him as her personal God and Savior. Melinda earned an Associates Degree in Finance and applied that degree to her military career.
She was called to glory at Charles Regional Medical Center in Maryland on April 17, 2016. Melinda leaves to cherish her memory, her mother Ms. Margaret Hargrove of the home, her father Mr. James F. Hargrove of Eastwood, NC. She leaves to mourn, two brothers, Franklin D. Hargrove of Aberdeen, NC and Darrell Person of Raleigh, NC; Two sisters, Ms. Tonya E. Hargrove of Augusta, GA and Ms. Tomeeko Hargrove of Atlanta, GA. She also leave a special friend and mentor Mr. Raymond Barber of Rock Hill, SC.
She also leave to cherish her memory cousins that she was reared with, Charles T. McLaughlin of West End, NC, Yolanda A. McLaughlin of Carthage, NC and DuWayne McLaughlin of Wilson, NC. A niece who she loved dearly, Tashana Hargrove of the home of whom she called her "Love Muffin". Very special nieces Jessica Fox and Jasmine McLaughlin, Alena McLaughlin. A special nephew James T. McLaughlin, all of Moore County, NC.
Melinda was preceded in death by her maternal grandparents Mr. Willie Person and Mrs. Helen Person of Carthage, NC and her paternal grandparents Mr. James Hargrove and Mrs. Theola Hargrove of Eastwood, NC. She is also preceded by aunts and a uncle that have went on to be with the Lord.
Melinda is survived by a host of aunts, uncles, cousins and friends of who she loved dearly, a very special God Mother, Mrs. Eva F. Bolling of Savannah, GA. A special friend of the family Ms. Melinda G. Berryman.
Melinda will be missed and thought of often. Her smile and her personality was magnetic and Melinda touched the lives of all those around her. She will be missed dearly. The family would like to express their many thanks and appreciation that was shown during their time of need and ask that you continue to pray for them as they continue to pray for you. May God bless and keep you.
Fry & Prickett Funeral Home is serving the Hargrove Family.
Tribute Video
Memories Timeline
Guestbook
Sign the Guestbook, Light a Candle