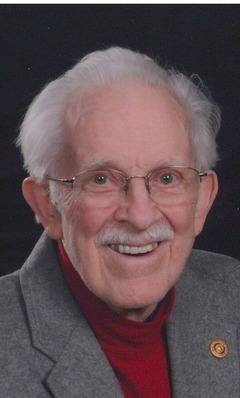 William Donald "Bill" Snelgrove, age 84, died March 10, 2015 at 1:20pm at his home.
A memorial service will be 4:00 PM Monday at Brownson Memorial Presbyterian Church.
Born November 13, 1930 in Strathroy, Ontario, Canada. He moved with his family to Hamilton, Ontario in 1942 and received his education in Hamilton including two years at McMaster University and a correspondence degree in Industrial Cost Accounting.
He met Grace JoAnne Lowry in amateur theatre. They married July 21, 1962, and enjoyed 52+ years together; she was a great wife, mother and nurse.
He moved to Belvedere, Illinois April 1964 to take position as CFO for Belvedere Products, Inc. Bill joined Rotary in April 1972. He moved the family to Kalamazoo, MI in 1979 to work for PRAB Inc. In May of 1996 he moved to Southern Pines to escape 65 years of freezing temperatures and snow. In July 1997 he and his wife became U.S Citizens. Bill loved his retirement town of Southern Pines and contributed generously to the community.
He was preceded in death by his parents and sister, Mary Ward.
Bill and the love of his life raised 2 children: Michael, of Florida and Anne of Charlotte, NC.
Memorials may be made to any of the following: Brownson Presbyterian Church, P.O. Box 330 S. May Street, Southern Pines, NC 283287; Moore County Historical Association, P.O. Box 324, Southern Pines, NC 28388; Rotary International Foundation, C/O Rotary Club of Southern Pines, P.O. Box 2023, Southern Pines, NC 28388.
Powell Funeral Home and Crematory is assisting the family.

Condolences: PinesFunerals.com
Memories Timeline
Guestbook
Sign the Guestbook, Light a Candle